Few cats like to travel, so most of us leave cats home when we leave for vacation. But how to provide for her needs sometimes leaves owners questioning what's best. Can you just leave her on her own? For how long? Are there household changes to make?
"The personality of the cat will determine how well she will do while home alone with minimal human contact," says Pamela J. Perry, DVM, PhD, behavior resident at Cornell University's College of Veterinary Medicine. "Some cats are very outgoing and love human attention," says Dr. Perry, "so it is better to have someone stay with the cat or at the very least, check on the cat daily. Although other cats may be shy or aloof, having a pet sitter who stops by regularly is the best way to ensure that the cats are doing well."
How Long
Most experts say not to leave your cat alone for more than 24 hours, although some say 48 hours. Kittens, of course, should never be left alone.
Web cams set in your cat's favorite areas in the house can help you determine if she's doing OK when you're away. These devices are relatively inexpensive and simple to use if you have a smartphone. The trick is that you need someone willing to stop in if you see something amiss.
Feeding
If your cat is already trained to accept an automatic feeder, this device can help. If not, just grabbing one at the store and turning it on before you leave is not a good idea, as your cat may be uncomfortable with the device. Even with an automatic feeder, you need to leave small bowls of food (and water in no-tip bowls) in several areas of the house. Food gets spilled, automatic feeders stop working, and water, of course, gets dumped.
If you have multiple cats with individual foods, you need to separate the cats into rooms and provide their food, water, and litterboxes. Again, practice this separation before you take off. Note: You can purchase microchip-enabled feeders that will only open for the cat wearing the matching ID tag, but that means your cat will have to wear a collar while you're away, which may not be preferable.
Litterbox
Most of us clean our litterboxes every day. Consider how dirty they may become after 48 hours. Just adding extra litter is not the way to go because some cats are picky about how deep the litter is and may avoid the box, setting you up for future problems. Place at least one extra box for every 24 hours you're away and it won't be cleaned.
Check-Ins
You can enlist the help of a friend or a professional pet sitter to stop in and care for your cats. The best time for that person to drop in is at your cat's usual mealtimes. This is critical for cats that have medications, of course. If that isn't possible, discuss the best way to handle those medications with your veterinarian. "A better option is to have someone stay with your cat so that his normal routine can be maintained," says Dr. Perry.
Introduce your cat and pet sitter before you go away. "The pet sitter should maintain a calm demeanor and allow the cat to be the one to initiate interactions. The sitter also could offer tasty treats to the cat to encourage her to approach," says Dr. Perry. Ask the sitter to check in on the cat a couple of times before you leave, while you are at work or running errands. If you plan on boarding your cat, do an overnight stay so the staff can let you know how she does.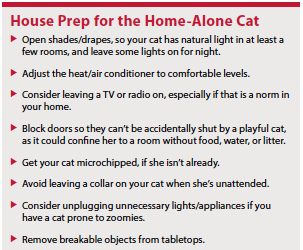 Safety First
It's all in the prep. You need to prepare your cat and your home with food and water setups, litterbox availability, and by removing potential safety hazards. A stressed, lonely, or frightened cat can react badly, hurting herself in the process, laying the groundwork for future bad habits. Feline pheromones can help, but again, they're something you should try prior to getting in the car to leave. Some cats do eventually adjust to the concept, especially if you begin gradually with shorter trips away.