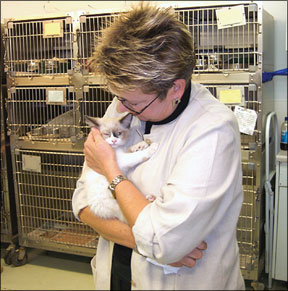 After the flurry of kitten adoptions during the summer months, many shelters are now overcrowded with adult and older cats. Just ask Betsy Saul, co-founder of Petfinder.com. "Kittens at shelters tend to get adopted very quickly," Saul says. "We need to make sure that adult and older cats dont get overlooked. Publicizing them on websites like Petfinder.com can help."
With 3.5 million visitors per month, Petfinder.com is the largest searchable database of adoptable pets on the Internet. Last year,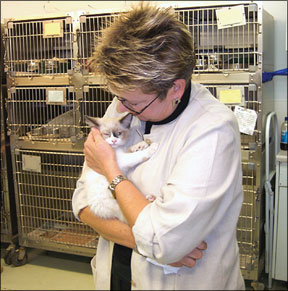 the company was "adopted" by media giant Discovery Communications, Inc., which operates 16 U.S. cable channels, including the Discovery Channel, TLC and Animal Planet. The acquisition has enabled Saul to take pet adoption to the next level.
"Animal Planet is already in 180 countries," Saul explains, "My goal is to make the whole world view pets as part of the family."
Reasons to Adopt a Shelter Cat
Aside from the most important reason for adopting an adult cat from a shelter or rescue organization – saving the cats life – there are many other advantages as well. Consider this:
An adult cats personality is already formed so you know what youre getting.


Many animal shelters have trained volunteers to help match individuals and families with compatible feline companions.


Most animal shelters screen animals for health and temperament problems. Additionally, they ensure that cats are up-to-date on vaccinations and are spayed or neutered prior to adoption.


Both pedigreed and mixed-breed cats can be found in shelters. (If you have your heart set on, say, a British shorthair or a Burmese, ask your local shelter to notify you when that particular breed of cat becomes available for adoption.)


The cost of adoption is usually far less than the cost of purchasing a cat from a breeder or pet store.

Publicity Helps
Staff and volunteers at most animal shelters are often so busy caring for the basic needs of their feline and canine charges that there is little or no time to spend on publicizing adoptable animals. Surprisingly, many people arent even aware that an animal shelter exists in their town or city! Community support can be an invaluable tool for shelters that are seeking to spread the word about their vital, life-saving services. Whether youre a shelter volunteer or simply a cat-loving citizen, you can help your local shelter promote cat adoptions throughout the year. Here are a few suggestions:
Offer to take photos of adoptable cats and place them on the organizations website or in the local newspaper.


Write a letter to the editor of your local newspaper stressing the importance of adopting, rather than buying, an animal.


Adopt a cat from an animal shelter, rescue organization or breed rescue group. For a listing of shelters in your area, look in the yellow pages of your telephone book under headings such as "animal shelter" and "humane society" or look at directories such as Petfinder.com on the Internet.

The Right Fit
Bringing a new cat into your life is a big decision and one that should never be taken lightly. Unfortunately, too many prospective pet parents fail to consider how well a cat will fit into their lives before they sign on the dotted line of an adoption application. Before adopting, take time to ask yourself some serious questions: Are you ready to make a long-term commitment to an animal? (Cats can live 15 to 20 years.) Do you have time for a cat?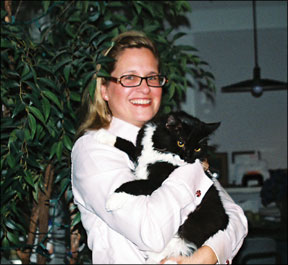 Although cats appear self-sufficient, they need daily love and attention. Are you willing and able to care for a cat financially? Pet insurance can help defray the costs of routine care or an unexpected injury or illness. If you rent, does your lease stipulate "no pets"? Check with your landlord; he may allow a cat if you agree to pay an additional security/cleaning deposit.

OK, youve asked the hard questions and youve decided that youre ready to adopt. Ideally, you should visit several animal shelters and rescue groups. Dont hesitate to ask the organizations volunteers for assistance in helping you make the right selection. They are familiar with the cats personalities and can make recommendations based upon the information you give them.

Remember, the Internet can be an invaluable tool when searching for a new pet. This summer, Petfinder.com launched a new feature on its website to help make your online selection process a little easier: pet videos. While still photos and written descriptions will still be the norm on the companys site, videos will be employed to help find homes for those hard-to-adopt pets.

"A black cat may not show up that well in a photo," notes Saul, "but with video, you can show him being part of a family and having a great personality. Video is going to make all the difference in the world for these animals."

v