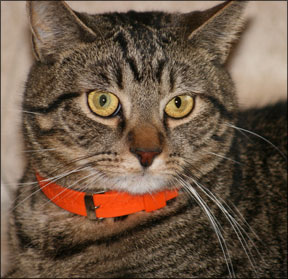 The statistics are sobering: Each year, according to the National Cancer Institute, approximately six million companion cats in the United States will be diagnosed with cancer, and more than half of cats over the age of 10 will die of the dreaded disease.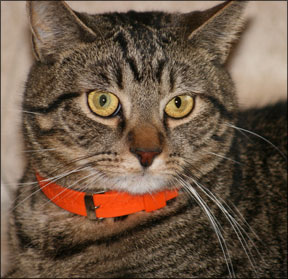 A cure for feline cancer may be just a collar away. Bright orange Pet4Pets charity collars – similar to the popular cancer-awareness wrist bands, la Lance Armstrong – were introduced last spring, with the funds going toward groundbreaking cancer research being funded by the Animal Cancer Foundation (ACF) in Norwalk, Connecticut. At least $2 from each collar sold will go to fund clinical research on new cancer therapies. So far, more than $14,000 has been raised from sales of the pet collars and matching wristbands for people.
"Ive lost a number of pets to cancers of various kinds over the years," says Jamie Bishop, general manager for Genia, makers of the collars. "So when a friend of mine, who is the marketing manager of an animal health company, called me with an idea to raise funds for cancer research for pets, I was more than happy to help."
Bishop says the companys goal is to raise awareness about cancer in pets. "These collars give people a fun and easy way to support the serious science involved in developing new cures," says Bishop. He hopes that funds raised from sales of collars and wristbands will enable cats to live longer, healthier lives by eradicating cancer, a goal shared by pet-product suppliers like PETCO.
"Were doing our part to sell Pet4Pets charity collars and help fund research into new cures for cancer," says Paul Jolly, vice president and director of the PETCO Foundation. "Buying a charity collar is a fun, easy way to contribute to serious research and to show your compassion."
Helping Pets, Helping People
The Animal Cancer Foundation, which was founded in 1999 by Gerald S. Post, a veterinary oncologist, has a mighty mission: to develop more effective and less toxic cancer treatments that will decrease mortality rates in both pets and people. Specifically, the organization focuses on research in comparative oncology – the study of cancers that occur in both animals and humans. The ACF does not fund research that would harm or induce cancer in healthy pets; rather, the organization supports clinical trials on animals already afflicted with the disease.
While pets and people often develop the same types of cancer, the disease – which, according to the American Cancer Society, will afflict 1.44 million people in 2007 – is even more prevalent among our feline companions. Even so, cancer studies for cats are relatively small compared to studies for dogs. With that said, there are more than 650 new cancer drugs currently in clinical trials for people and some of these could also benefit both cats and dogs.
"Almost everyone has lost a pet to cancer and no one realizes just how prevalent this problem is," says Bishop. "Cancer in cats is an unheralded epidemic and it is simply not on the radar in the public setting. Weve taken it upon ourselves to be advocates for this cause."
To learn more about the pioneering work being done at the Animal Cancer Foundation, visit www.acfoundation.org.
v