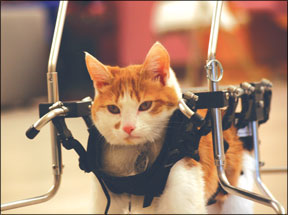 For four years, Kathy Barton, a fourth-grade teacher in Velma, Oklahoma, has engaged her class in a worthwhile project involving animals. This past year, she was introduced to a two-year-old male cat named Xavier that had been unable to walk since birth due to an undetermined neurological disorder. Barton knew where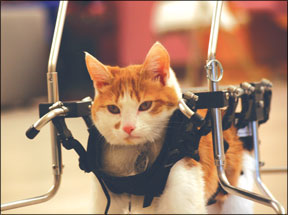 to turn for help for this cat, a place she had relied on before for animals like him.
Barton contacted HandicappedPets.com, a website offering products, services and support for elderly, disabled and handicapped pets. Bartons class raised $700 to buy Xavier a quad cart – a mobile chair that helps disabled animals to get around.
"The veterinarian from the Rhode Island SPCA [where Xavier had ended up before being adopted] couldnt believe what he was seeing," says Deborah Winters, co-owner of HandicappedPets.com. With the quad cart, Xavier walked for the first time – bringing much joy to his adoptive owner, Laurelin Sitterly.
Bartons class has now raised enough money to buy seven carts for various handicapped animals during the past several years. Barton isnt alone in seeking equipment for disabled cats and dogs. Hundreds of people from all over the world, including veterinarians, contact the website every year for information.
Times Are Changing
Not that long ago, a pet who became disabled was quickly on the way to being euthanized. This was true of Mercedes, Mark Robinsons dog, who suffered from epilepsy. Robinson, the founder of HandicappedPets.com, believes his dog died before his time because the veterinarian said the dogs illness was untreatable. Robinson says he then devoted his career to providing high-quality products for handicapped pets and their owners so that other animals would not have to be euthanized unnecessarily.
"When you have a disabled, injured or elderly animal, the real work falls on the caretaker," says Winters. "Our specially designed products make the animal more comfortable and also help prevent back and other injuries for the caretaker. This is especially true for human companions who must lift and move a large animal."
Products Available
While most of the websites clients are dog owners, the site does offer many products for cats. One of the most popular products is diapers. Most cats sleep with their human companions on the bed, says Winters. If cats become incontinent, its natural for their owners to keep them off the bed. "This is very hard on the companion and the cat. But diapers take care of incontinence, especially if its not severe. Then the cat can remain sleeping with his or her human companions."
Many customers contact the website looking for products for rear-end support for their cats, says Winters. Rear-wheel carts are used for cats with degenerative muscle diseases and arthritis. These carts are made for animals with strong front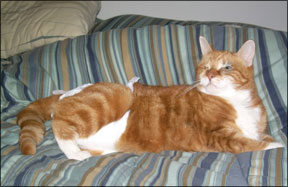 legs whose rear legs are unable to provide support. Belly slings are also popular for cats that cant get around. The sling encircles the cats midsection and has handles with which to carefully lift the cat and help it walk.
"All quad carts or chairs – like the one for Xavier – are custom-made to fit the animal," says Winters. "We get requests for carts for all kinds of animals besides cats and dogs. Some are made for rabbits. Some are made for hedgehogs and goats. We even have a duck in a cart!" Much of the equipment has been developed by animal rehabilitation specialists, says Winters, who also work with similar equipment for humans.
How does HandicappedPets.com help terminally ill cats? "Naturally, our equipment cannot stop a disease process," explains Winters. "But if you have a cat with cancer that has to have a limb amputated, we have a product that will help make the cats life easier."
Providing Relief for Pet Owners
Owners Robinson and Winters feel that they accomplish a lot more on their website than simply selling products. They try to educate themselves and pet owners about the mobility problems of cats and dogs. " We call our website a community of websites," says Winters. "We have over 40,000 pages on the site – links to different educational articles and other websites." They also have a message board/chatroom on the site that is managed by a volunteer board of directors.
The owners also educate professionals about what is available for pets with disabilities. "I go to two or three veterinary conferences a year. The veterinarians are really receptive to us," says Winters. "We get a lot of veterinarians referring their clients to us, and we have customers from all over the world. Veterinarians directly order products from us now. Five years ago, this wasnt happening."
Winters says that pet owners are very emotional when they get in touch with them. People are so grateful, she says, that they have a place to turn to with their disabled cats. Thats why we want people to know about us now – before they really need us." v By Ilene Springer
Some additional resources: Do you need to talk with other pet owners of disabled animals? Pets with Disabilities is a support group for people facing the everyday challenges of taking care of a beloved pet who faces physical limitations:
www.petswithdisabilities.org/