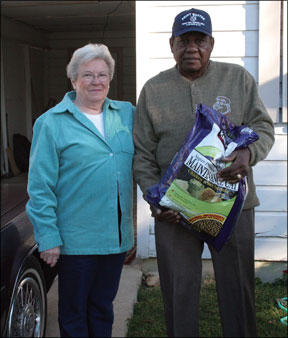 Life has gotten hard for Beth since her car accident. She is still confined to a wheelchair following multiple surgeries and a series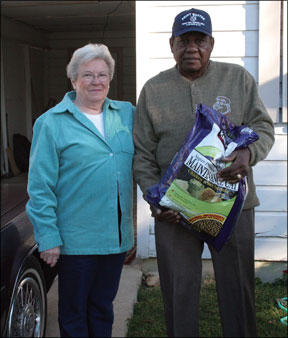 of skin grafts. Her children (whom she raised on her own) are all grown and gone, so Beth has only her beloved gray and white cat, Charity, to help her get through daily life at home.
Though she doesnt like to be dependent on anyone for anything, its difficult, if not impossible, for Beth to prepare meals for herself. Shes homebound, too, so even if she could afford to eat out she has no way of traveling to restaurants or meal sites. Beth needed help and she got it through the Tarrant County, Texas Meals on Wheels (MOW) program.
Five days a week, Harriet Waring, a Tarrant County MOW volunteer, delivers nutritious meals to Beth. Waring also makes sure that Charity is well fed. Through the Tarrant County MOWs pet food program, meal recipients who might scrimp on their own meals to feed their pets (which volunteers saw happening on a regular basis) are given bags of pet food as needed to keep their pets nourished.
The Tarrant County MOW pet food program, which started as a pilot program nearly five years ago, provides pet food to more than 250 pets, 39 percent of them cats, that belong to homebound individuals enrolled in the MOW program. Sometimes the meal recipients ask for food assistance for their pets, but more often the volunteer delivering the meals notices that they are being fed to the pet and offers to put the homebound person on the pet food delivery route.
Pet Programs Go National
A survey conducted in April 2006 by Meals on Wheels Association of America (MOWAA) found that only a smattering of their member organizations had pet food programs in place. The study also found, however, that most of the remaining MOW organizations polled expressed a desire to begin a program. As is often the case with charitable organizations, funding was found to be the principal limiting factor, says Enid Borden of Alexandria, Virginia, MOWAAs chief executive officer. With four out of ten MOW programs already carrying a waiting list of potential clients who cannot be served for lack of funding and volunteers, Borden points out that it is hard for MOW programs to consider adding another cost to their programs.
So, in order to help meet the needs of local MOW organizations, MOWAA initiated a new program: We All Love Our Pets (WALOP). Through WALOP, MOWs can tap into the expertise and experience of MOWs with established pet food delivery programs in order to develop programs of their own.
Season of Suppers … and Beyond
To give the national program a kick start, Banfield, The Pet Hospital, a Portland, Oregon-based national network of veterinary practices, organized a pet food drive with the goal of gathering one million pounds of pet food. During the months of November and December 2006, Banfields veterinary hospitals served as donation sites for packaged pet food drop-offs. (See www.banfield.net for a list of sites.) Though all sizes of bags were appreciated, MOW volunteers noted that
small
bags five to10 pounds are easiest for homebound individuals (who are often seniors) to handle and keep fresh.
Of course, the needs of the homebound and their pets will extend well beyond the holiday season. To address this ongoing issue, and to help more MOW organizations build their own pet food programs, Banfield has arranged for financial donations to be collected at medical hospitals affiliated with MOW programs, and is attempting to connect those interested in volunteering in pet food programs with their local MOW programs.
In the end, of course, the greatest hope of all parties involved is to raise awareness of the severity of hunger among seniors in our country and to help those who are homebound to care for their pets without sacrificing their own well-being. To help homebound individuals in need in your area, contact MOWAA (www.MOWAA.org) for an organization near you, or look up "Meals on Wheels" in your local telephone directory.