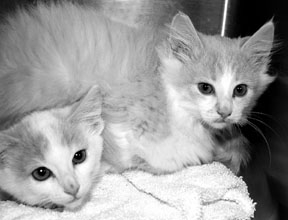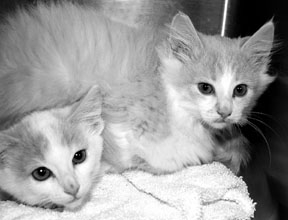 Frank is the newest member of the Capers household in Roanoke, Texas. Born on the floorboard in the backseat of a car, workers at a local car dealership found him after he was abandoned by his mother. With thousands of strays in shelters, the Persian mix had only a small chance of a happy future in a loving home. He struck pay dirt with Vickie Capers, who had a soft heart for his hard luck story. He was really sick, so he lived in our bathtub for a couple of months until he got better, says his new owner.
Today Frank has the run of the household, with two older brothers, another cat and a dog. He really is an unusually affectionate cat, says Capers of her newest family member. Frank likes to have his tummy rubbed and greets his human mother at the door. But the truth is that, if left on his own, Frank may not have fared so well. It poses the question: How can we best help the neighborhood stray?
Its just not good for the cat or the community, says Margaret Slater, DVM, of Texas A&M. She says discovering the cats vaccination history is perhaps the most helpful idea for all involved. Dr. Slater, a 13-year member of the universitys feline anatomy and public health department, says digging up gardens and preying on wildlife is all in a days work for free-roaming cats. But the neighborhood nuisance can quickly turn into a community threat when left to fend off skunks and raccoons. Rabies tops the list of health concerns in dealing with unknown animals.
Thats why Dr. Slater says its important to gather as much information as possible before making any decisions. You may be dealing with a cat that isnt abandoned, just missing from home. She says to ask neighbors about the new stranger, or to take a drive around the block to look for lost cat posters.
If you cant find the owner, Dr. Slater says the next step is to ask whats best for the cat and your family. And what if you can determine that the cat is either unhealthy or unfriendly? Then youll want to call animal control to come get them, or take them to the local shelter, says Dr. Slater.
A trip to the veterinarian can determine if your newfound friend is likely to adapt well to home life. A health exam will find any worms and fleas, which are relatively easy to treat. Dr. Slater says youll also want your veterinarian to run tests that can diagnose life-threatening diseases such as FIV (feline immunodeficiency disorder) or feline leukemia (FeLV). Your vet will also conclude what vaccinations are necessary for the cat based on approximate age. Spaying or neutering surgeries will also help keep the cat from contributing to even more strays, which Dr. Slater says represent as many as 50 percent of cats euthanized in shelters.
As a member of the Aggie Farrell Cat Alliance of Texas, Dr. Slater has worked with more than 200 abandoned, lost or wild cats over the past five years. Thats why the trap-and-release expert highly recommends that owners supply their cats with identification methods. She particularly likes the microchip. Its a gizmo the size of a grain of rice that is implanted over the shoulder blade where doctors can use a scanner to retrieve the identification number, says Dr. Slater.
Updated collars or tags can help bring them home safely, but keeping kitty out of harms way is your best bet. Confining them to the house is good, but Dr. Slater reminds us that some people enjoy living with outdoor-indoor cats. You can invest in special cat enclosures that give access to the great outdoors without the threat of cars, humans or other animals. Screened porches are also a suggestion, but these days Dr. Slater says its not uncommon to see our feline friends out for a walk on a leash.