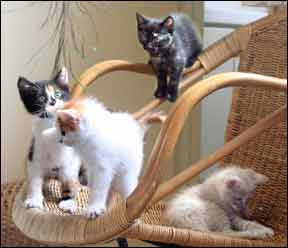 Are you considering adopting a new kitten? While the love part is a no-brainer, the responsibility can sometimes come as a surprise. In addition to choosing high-quality food, litter and toys, a new owner must take a proactive role in the kitten's health.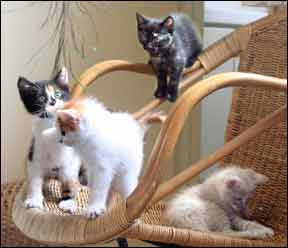 During your new pet's first year, a veterinarian will examine the kitten a number of times in order to identify and treat or prevent any potential health or behavioral problems. There is not a set list of medications and vaccines that every kitten should receive, so owners need to consult with their veterinarian before deciding what is appropriate and what may not be. But keeping your kitten healthy isn't just about vaccines and medicine. Here's what else you need to consider.
It's Never Too Early to Start. An effective feline wellness program for cats of all ages consists of six components: infectious disease control, diagnostic testing, behavioral counseling, nutritional counseling, oral health management and training for at-home care. The first visit is very important: Generally, this is scheduled soon after the owner purchases or obtains the animal — usually at six to eight weeks of age — to do a thorough physical exam and make sure that there aren't any health problems. Obviously, it's important to keep any new animal separate from the resident pets until the veterinarian gives it a clean bill of health.
The infectious disease control component includes treatment for internal and external parasites, and vaccination. The first treatment for parasites should be administered at this time, regardless of the results of the fecal test. The physical examination will also reveal the presence of fleas and earmites, which can then be treated. Perhaps one of the most important aspects to be addressed in the first visit is which vaccines should be administered and how often.
While a whole host of vaccines is available for cats, it is essential to create a well thought-out vaccine regimen to optimize the benefits of vaccination while minimizing the risks.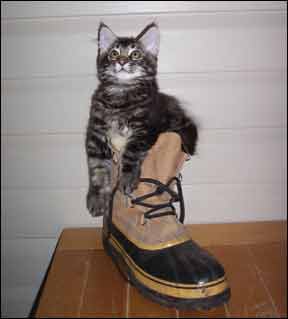 The diagnostic testing component of the kitten wellness program includes fecal examination, testing for feline leukemia virus (FeLV) and feline immunodeficiency virus (FIV) infection and, depending on the kitten's background, screening for ringworm, a contagious fungal infection of the skin. It's best to detect infection and disease as early as possible, and manage it quickly.
The behavioral counseling component is one of the most important. Inappropriate behaviors, like urinating outside the litterbox or destructive scratching, are the most common reasons that people abandon their cats or surrender them to shelters. If inappropriate behavior can be dealt with as soon as it appears or — better yet — prevented from happening in the first place, a lifelong friendship can be fostered.
The goals of kitten nutritional counseling are to make sure that the proper diet is provided and to prevent obesity — the most common nutritional disorder of cats today. Obesity is an important concern because it's so common and creates real health risks. Your veterinarian can also discuss various methods of feeding and diet types, and make recommendations based on the individual cat and its home situation.
Oral health management is geared to prevent or treat oral diseases like gingivitis and periodontal disease. Twice-yearly exams throughout a cat's life will help pick up oral disease in the early stages, but the importance of regular tooth brushing cannot be overemphasized. Training your cat to accept toothbrushing is best started when it's young. For additional instruction, see the Cornell Feline Health Center video on tooth brushing, viewable at www.felinevideos.vet.cornell.edu. (And see related article on the cover of this issue.)
Training for at-home health care helps cat lovers prevent or discover disease. In addition to toothbrushing and nail trimming, owners can be trained to do "mini-physical exams" without the cat even knowing it. The goal is early detection of anything amiss.
Most veterinarians recommend that the kitten be spayed or neutered sometime between four and six months of age. According to the Humane Society of the United States, an estimated three-to-four million cats and dogs are euthanized in shelters yearly. Obviously, spaying or neutering is an important part of the owner's responsibility.
Once the initial flurry of visits is over, a healthy kitten should still visit the veterinarian twice a year, provided that there are no unexpected illnesses in the meantime. By taking these early preventative measures and paying close heed to the wellness program suggested by the veterinarian, owners can help ensure a long, happy life for their cats.