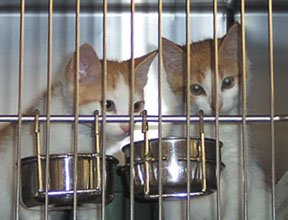 In 1999 Dave Duffield, founder of PeopleSoft, Inc., and his wife, Cheryl, established Maddies Fund – and gave animal shelter medicine a much-needed shot in the arm. The foundation, which is named after the couples beloved miniature schnauzer, is helping to finance the creation of a no-kill nation. In September 2005 Maddies Fund awarded Cornell Universitys College of Veterinary Medicine a $1.7 million grant to educate veterinarians and veterinary students in the field of animal shelter medicine.
Training programs such as these are just getting started, notes Jan Scarlett, DVM, the veterinary professor who directs the Maddies Shelter Medicine Program at Cornell University. Other universities with shelter medicine residency programs include Auburn University, the University of California, Davis and Colorado State University.
The Maddies Shelter Medicine Program consists of four components:
Residency training
Veterinary student training
Diagnostic and consultative support for shelters
Shelter medicine research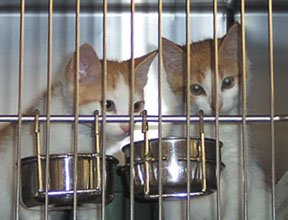 Residency Training
A three-year residency program will be offered to graduate veterinarians who wish to receive advanced training in managing the health of cats and dogs in animal shelters. During their residency, students will participate in hands-on training at animal shelters and complete a research project, for which they will earn a masters degree in epidemiology.
Veterinary Student Training
In addition to externships at local animal shelters, training will include participation in two elective courses: Issues and Preventive Medicine in Animal Shelters and Managing Infectious Disease in Small-Animal Populations.
The Cornell University Animal Health Diagnostic Center will provide diagnostic work-ups to evaluate the health of cats and dogs in shelters. The work-ups will help identify causes of illness and develop preventive-care regimens.
Shelter Medicine Research
Many unanswered questions remain about how best to handle disease in shelters. Research will play an essential role in providing answers and thereby improving the training of shelter workers and the health of the animals in their care.
Animal shelters often lack the financial resources to hire full-time veterinarians, let alone fund an entire on-site veterinary clinic. Today, as pets are increasingly valued as important members of the family, animal lovers have come to expect more in terms of the quality of care – not only for their own animal companions, but for those awaiting adoption in shelters as well.
The good news is that the general public realizes that they need to provide more financial assistance to animal shelters in order for these facilities to accomplish their goals, says Dr. Scarlett.
Veterinarians and shelter personnel across the country also realize the importance of providing excellent health care to their furry residents. Cats and kittens need to be vaccinated immediately upon entering a shelter in order to prevent the spread of disease. Agents such as the parvovirus can spread quickly, as can upper respiratory tract viruses. Having trained veterinarians on the premises means healthier cats, which translates into higher adoption rates.
Better health care for shelter cats may lower euthanasia rates, too. How so? For one thing, healthy cats can be adopted more quickly, thus freeing up space for other abandoned animals. Additionally, by having a veterinarian on-site, more cats will be spayed or neutered prior to adoption, thus helping to curb pet overpopulation.
Although Maddie passed away in 1997, the love and friendship this devoted little dog gave to her family lives on in perpetuity in the form of Maddies Fund, thus giving abandoned cats and dogs more opportunities than ever before to find the love they so desperately seek.
The Maddies Shelter Medicine Program is underwritten by a grant from Maddies Fund the Pet Rescue Foundation (www.maddiesfund.org), which is helping to fund the creation of a no-kill nation.