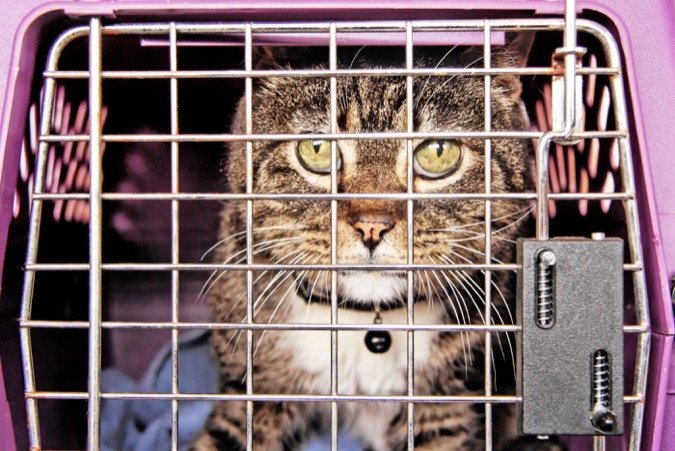 As we go to press, Hurricane Irma has strengthened to a Category 5 storm and is headed toward land, only a few days after we endured Hurricane Harvey, which destroyed its way into the record books. When it all settles, we're pretty sure the losses involving pets will be quite sobering, possibly surpassing those of Hurricane Katrina, the disaster that showed us the inadequate preparations most of us make to safeguard our pets during a catastrophe.
At least 88,700 pets were unaccounted for in the aftermath of Katrina. Of the 15,500 animals rescued, only 15 to 20 percent were reunited with their owners. That percentage is actually higher than the national average of 10 percent.
While it's easy to cast judgment on poorly prepared people living in hurricane- and flood-prone areas, it's also easy to forget that disasters—gas leaks, blizzards, fires, tornadoes—can strike anywhere without warning. As a pet owner, are you prepared for a disaster?
You're Not Alone
Unfortunately, according to Elisa Mazzaferro, DVM, staff criticalist at Cornell University Veterinary Specialists, you're probably not ready. "Whenever there is a natural disaster, lack of prior planning can unfortunately force pet owners to leave pets in their homes, while the humans evacuate," Dr. Mazzaferro says. Being left alone, particularly during disasters, can pose a number of dangers to cats, despite their natural resourcefulness.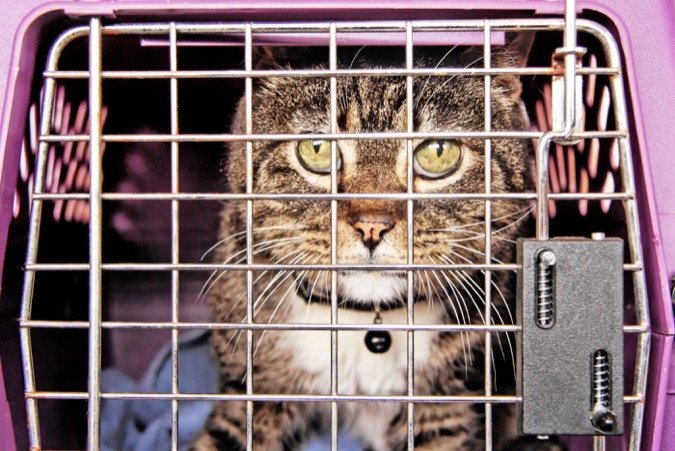 Cats left behind will usually hide inside the home, Dr. Mazzaferro says, often in attics or crawl spaces. If trapped in a very warm attic, a cat can succumb to heat stroke. In cold climates, exposure to inclement weather can lead to frostbite. If left behind inside a crate, a cat can drown in rising waters. Plus, the cat may not have adequate food and water.
If the cat becomes fearful and escapes from the home, the outside world poses its own set of dangers. Without an owner to seek veterinary attention for injuries, even minor cuts and sprains can become life-threatening for cats.
Emergency Plan
Be proactive. Be sure you have a cat carrier, emergency kit (see sidebar), and a sufficient supply of medication for ongoing health problems ready.
"People should have pet carriers in which to transport pets during evacuation," Dr. Mazzaferro says. Containment for pets is vital in cases where people are required to seek shelter at a safe facility like a school, community center, or other shared facility.
"Some evacuation shelters will allow pets along with their pet owners, provided that they can be contained within their kennels," Dr. Mazzaferro says.
If you try to stay home during a mandatory evacuation, you may be forced out, possibly without your pets. Dr. Mazzaferro recommends contacting your veterinarian, local shelter, pet hotel, or boarding facility to see if they will take animals during a disaster. You should also contact friends, relatives, or facilities outside of your local area to determine what might be available to you and your pets in the event of a widespread disaster.
"All pets should have a microchip, and the pet owner should make sure that the information is kept up to date, so that pets can be reunited with their owners," Dr. Mazzaferro says.
The American Society for the Prevention of Cruelty to Animals recommends using a rescue-alert sticker to let people know that pets are inside your home. Ensure the sticker is visible to rescue workers. It should include the types and number of pets in your household, as well as your veterinarian's phone number.
If you must evacuate with your pets, write "EVACUATED" across the stickers, so rescue workers don't waste time searching. After all, every wasted minute of a rescue worker's time is another minute that they could have been using to help save the life of another local family's beloved pet. Cornell offers excellent links for additional information on keeping pets safe in a disaster. Go to: bit.ly/CornellDisaster
Pet-Emergency Kit
– The pet's medical records
– Pet ID: a photo and microchip information, in case you get separated
– Transportation crate carrier
– A first-aid kit with gauze, bandages, saline irrigation solution, and antibacterial ointment
– Muzzle
– Towels
– Medications
– Food, water, and bowls
– Collar or harness and leash
– A long list of pet-friendly facilities and friends. Check with local shelters, boarding facilities, veterinarians, and local community veterinary medical associations.