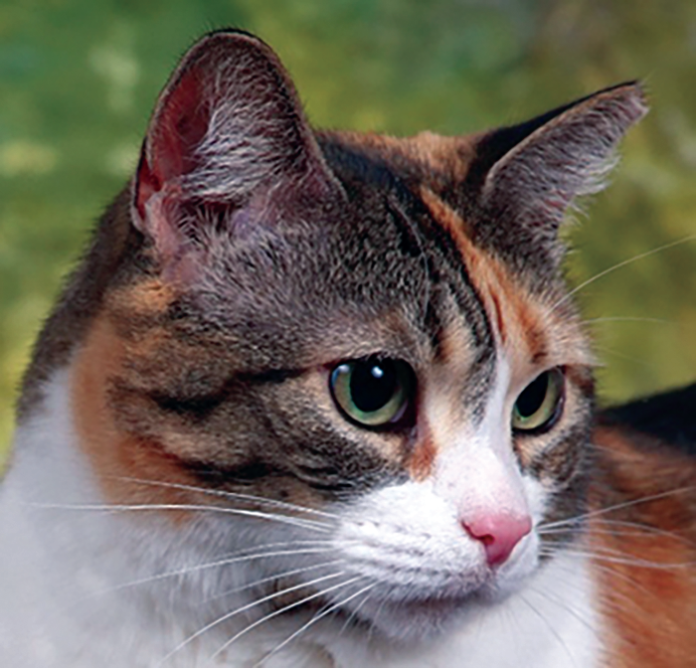 We are extremely sad to announce the recent passing of Elizabeth, our friend, mascot, and motivation for so many years. Elizabeth started life as a barn cat, and ultimately became the loving companion of former Cornell Feline Health Center Director Dr. Jim Richards, his staff, and many students at the College of Veterinary Medicine at Cornell University. Elizabeth lived at the Center for several years and spent the last 10 years of her life in the home of a kind-hearted and caring cat lover near Cornell.
Elizabeth's life is an excellent example of the difference that kindness and dedication can make in the lives of our feline friends and of the tremendous impact that a sweet kitty can have on so many. We will miss you dearly, Elizabeth, and thank you for all of the love and insight that you have provided to cat lovers the world around.
In keeping with Elizabeth's drive to educate cat lovers, we feel it is fitting to take a moment upon her passing to reflect on the notion of grieving. While cats provide us with so much love and companionship, since their lifespans are shorter than ours, it is common for those who love cats to ultimately have to deal with their passing. This can be an extremely difficult time, but it is important for those that experience it to know that grieving, defined as the pain that accompanies loss, is normal.
There are several stages of grief, including denial, anger, bargaining, depression, and acceptance, and while bereft people experience most or all of these stages, they don't necessarily experience them in the same order. The support of friends and family can help while mourning the loss of a beloved cat, but everyone grieves in their own way. Knowing strategies to help cope with loss, including making a memorial scrapbook, saving fur clippings, creating a memory book or video, and planting a tree in memory of a cat can be empowering.
If grief causes you, a family member, or a friend trouble sleeping, eating, interacting with friends and family, performing daily tasks, or taking part in activities of daily living, professional assistance should be sought. There is absolutely no stigma attached to seeking such support, and Elizabeth would want us all to feel this way. You can find out more about how to cope with the loss of a beloved cat on the Cornell Feline Health Center's website at: https://tinyurl.com/CW-grieving.
Elizabeth was truly the embodiment of the Feline Health Center's mission. She was a stray kitty that benefited from the love and compassion of her special caregivers and veterinary professionals, and she gave so much love in return. Her story teaches us many things about hope, dedication, and the limitless possibilities of compassion.
Spirit fly, Elizabeth, and thanks for the memories, the wisdom, and for your true heart.