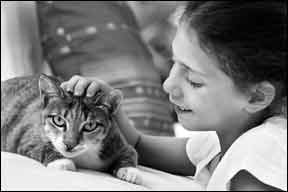 For many years, Katherine Goldberg, DVM, worked in veterinary critical and intensive care units. As she found herself becoming increasingly interested in the stories behind the emergencies, she was moved to make a difference for terminally ill pets. In 2010, she founded Whole Animal Veterinary Hospice Services, a practice whose mission is to provide "compassionate care in the comfort of your home." She now spends most of her time doing just that. We spoke with Dr. Goldberg at a recent presentation in Ithaca, NY, where her practice is based.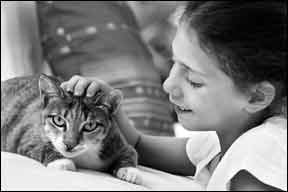 What exactly is veterinary hospice? The word "hospice" — which has the same root as "hospitality" — originally meant a place of shelter for weary travelers. In 1969, Elizabeth Kubler-Ross's groundbreaking book On Death and Dying helped to jumpstart the human hospice movement, and the term "hospice" began to be used to describe specialized care for dying people. Similarly, veterinary hospice comes from a place of acceptance that additional intervention is unlikely to change the course of disease for a particular pet, and focuses on the quality, rather than the quantity of that pet's life.
Why did you decide to specialize in veterinary hospice care? My 12-year old dog Griffy had terminal cancer. When his condition became unacceptable, I wanted to make his death as beautiful and meaningful as his life with me had been. We put wildflowers around his neck and took him out to his favorite field in his favorite season — wintertime. We sat there in the snow, fed him hamburgers and just hugged and held him. He passed away surrounded by people who loved him.
I realized how unfair it was that I could provide this beautiful experience for my pet just because I happened to be a veterinarian. I wanted to offer people a way to do the same for their pets. Many of us have experienced a beloved pet's death in a clinical setting, like a veterinarian's office. I believe the euthanasia process can be different. Specifically, it can provide a meaningful opportunity for growth and peace of mind. I've been fortunate to practice in Ithaca, with the resources of Cornell University's veterinary school and hospital nearby.
Why seek veterinary hospice for cats? First, our cats are living longer. At some point, geriatric cats are a reality for most owners. Second, the expanded medical options now available for pets are approaching those available for humans. While this can be great for our cats' health, it also creates a dizzying array of options. Just because we can perform a medical procedure doesn't necessarily mean we should.
In my practice, I emphasize the "worth it" meter — if a treatment, such as providing subcutaneous fluids or repeatedly pilling an elderly cat disrupts the bond between cat and owner, then it's not worth it. I'm interested in that precious time between when a veterinarian says "There's nothing more we can do" and the cat's death. Hospice can help make the most of that time.
How can hospice benefit cat owners? A veterinary hospice provider can help oversee and navigate the many decisions and challenges that come with end-of-life care. Aside from financial issues, decision-making can involve complicated ethical questions like, "How do I feel about intensive veterinary care? Does this treatment make sense for my pet?" Then there are nuts-and-bolts questions like, "Can caregivers manage pain control at home? How often does a veterinarian realistically need to see this patient?"
Other factors include the cat's underlying medical conditions, his or her temperament, and how well-tolerated various treatments might be. Veterinary professionals are often conflicted about sending cats with real nursing care needs and medical challenges back home. All too often, people choose immediate euthanasia because they don't know of any other options.
A hospice provider can help assess your cat's quality of life, control your cat's pain and adjust medications according to her condition. We can offer mental and appetite stimulation, enhance mobility, and when appropriate, provide a meaningful euthanasia experience. Hospice care incorporates a global look at each cat's situation, and a deep respect for the cat/owner bond. Often this involves sifting through piles of medical records, determining what the caregivers want, and what the patient needs. I have immense respect for the relationships that people have with their regular veterinarians, and for the specialists that provide cutting-edge care. I advocate for a team approach where all parties work together to create a continuum of thorough, individualized, dignified end-of-life care.
Cat owners benefit most when they are part of that decision-making and caregiving team, when their cat's needs are being met, when they are supported in their grief, and when they have choices as to how, when, and with whom their cat spends her final days. It makes it all worthwhile when a client thanks me for advocating for their pet's welfare, and for their beliefs, expectations and goals.
When should cat owners seek hospice care? You may be ready to seek hospice care if or when additional medical intervention is intolerable for you or your cat; when your cat's quality of life has declined to a point that is unacceptable for either of you; when your cat's pain cannot be adequately managed; and when you as a caregiver need support. Some people simply need more consultation time than the traditional model of veterinary care allows. And some veterinarians feel out of their comfort zone with these issues and are happy to be able to offer their clients a referral.
When might a cat be ready for hospice care? Conditions that may be appropriate for hospice care include cancer, organ failure (such as kidney failure in cats), or the end stage of any disease. Geriatric cats with multiple non-terminal issues, such as mobility and cognition, may also benefit from hospice care. Think about what constitutes a good day for your cat, and what your cat needs to be happy. When those things are no longer possible, your cat may benefit from hospice care. Finally, think about how you'd most like to say goodbye to your cat. Veterinary hospice can help your vision happen.
Any memorable feline cases? I do have a real soft spot for skinny, grumpy, geriatric cats — the grumpier the better! One such 18-year-old cat came to us with chronic renal disease. She hated car rides, hated her renal diet, hated receiving subcutaneous fluids … she hated everything! After several attempts at hospital care, and several phone and in-person consultations, we elected to euthanize this cat at home, surrounded by family. Her caregivers felt great relief that she didn't suffer, nor continue to get stressed out by additional interventions.
Another very different case was an eight-year-old cat with severe renal and dental disease. His breath was terrible, his blood work was atrocious, and he had stopped eating entirely. Yet he was still bright, alert, and interactive. After considering euthanasia, we decided to pursue dental treatment instead.
His owner and I had a heart-to-heart talk about the very significant risks of anesthesia. I felt that living with a painful, infected mouth was unacceptable, and that neither cat nor caregiver was ready for euthanasia. One blood transfusion and seven dental extractions later, this cat awoke and immediately began to eat! Currently, he's doing just fine.