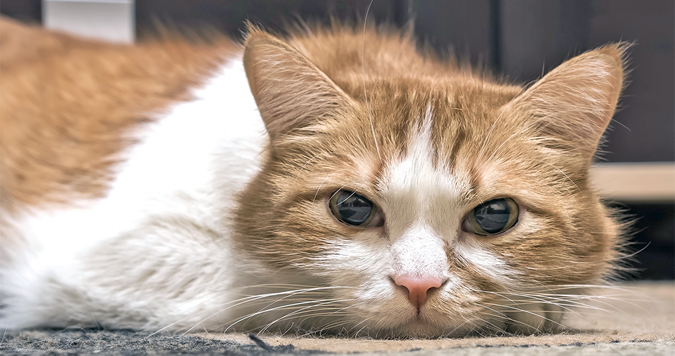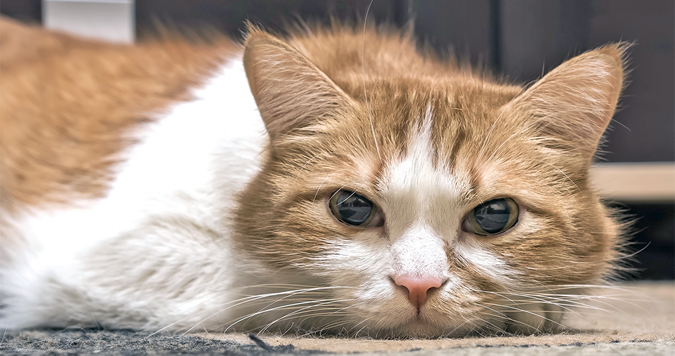 It's a common misconception that vomiting is normal in cats. Cats should not routinely vomit more than once per week. The possible causes include everything from gastrointestinal (GI) parasites to dietary indiscretion to foreign bodies. In middle-aged to older cats, inflammatory bowel disease (IBD) is a frequent culprit.
IBD refers to a group of connected gastrointestinal disorders that manifest as vomiting, diarrhea, decreased appetite, and weight loss. In IBD, the GI mucosa (the lining of the intestinal tract) at varying sites within the tract is infiltrated with white blood cells that cause inflammation. In response to this, absorption of nutrients is impaired, GI bacterial populations may change, intestinal motility may be altered, and inflammation of other organs, like the liver and the pancreas, may occur.
The cause of IBD is unknown, although allergies to diet, alterations of GI bacterial populations, genetic predisposition, and other environmental factors have been proposed as causes. The symptoms of IBD may include:
-Weight loss
-Lethargy
-Decreased appetite
-Vomiting
-Diarrhea
-Bloody stools
-Diagnosis
The diagnosis of IBD can be challenging and often involves a series of tests. Initially, a thorough physical exam will be performed by your veterinarian and a history will be taken. Since food allergy is a possible underlying cause for IBD, knowing your cat's dietary history is an important part of that history.
Initial testing may include a complete blood count, chemistry panel, a thyroid level, urinalysis, fecal evaluation, and blood pressure measurement. Chest x-rays may be recommended to rule out the spread of cancer (i.e. lymphoma) from the GI tract.
If the initial testing does not reveal an obvious cause, the next step is often abdominal ultrasound, which allows a thorough evaluation of the internal organs. The radiologist will evaluate for thickened/abnormal bowel and will look for changes in the lymph nodes and internal organs. In some cases, aspirates of enlarged lymph nodes and /or masses in the abdomen may be obtained during the ultrasound.
A GI panel, which evaluates several parameters including cobalamin (vitamin B12), folate (vitamin B9), and pancreatic enzymes, is also commonly obtained. Cobalamin is a critical vitamin for many systems, particularly the formation of red blood cells and the health of nerve tissue.
In IBD, the distal small intestine (ileum) is often inflamed, and as a result, cobalamin is not absorbed from the diet normally, resulting in low cobalamin levels in the blood. A 2006 study carried out at the College of Veterinary Medicine at Cornell University showed that 49 out of the 80 cats diagnosed with IBD in the study had low cobalamin levels.
Folate levels may be decreased due to poor absorption secondary to IBD or elevated if small intestinal bacterial overgrowth (SIBO) of non-beneficial GI bacteria occurs.
Pancreatic enzymes are also commonly evaluated, as IBD may occur in combination with pancreatitis (inflammation of the pancreas) and hepatitis (inflammation of the liver), a condition called triaditis. Triaditis requires extensive investigation and care, as many cats with it are extremely ill.
The gold standard for diagnosis of IBD is biopsy, which can be done by endoscopy or exploratory surgery. In the case of endoscopy, a small, flexible fiberoptic camera is passed into the GI tract while the cat is under anesthesia.
Everything is visually inspected and then small biopsy samples are taken using specialized instruments. In rare cases, the diagnosis of IBD can be missed if endoscopic biopsy thickness is not sufficient, but this technique is generally considered to be a viable option to obtain intestinal biopsies.
Full thickness biopsies can only be obtained during an exploratory abdominal surgery (sometimes called a laparotomy). This requires general anesthesia and facilitates more in-depth exploration of the abdomen for evidence of disease in other organ systems. Biopsies of other organs, including the liver and abdominal lymph nodes, may also be obtained during laparotomy.
Treatment
The treatment of IBD must be tailored to each individual cat, but generally includes some combination of dietary modification, anti-inflammatory medication, probiotics, vitamin supplementation, and, in some cases, chemotherapeutic agents.
Parasites such as hookworms and roundworms can incite significant inflammation in the bowel, so eliminating this cause is always a good idea. Remember that one negative fecal evaluation does not mean a cat isn't infected with parasites. Common cat parasites may intermittently shed eggs into the feces, so even if a fecal examination is normal, deworming anyway is a good idea and is relatively inexpensive.
Antibiotics (usually metronidazole and/or tylosin) may be helpful, as certain bacteria are believed to play a role in IBD. Metronidazole is an antibacterial and antiprotozoal drug, but it also has immunomodulating effects that can decrease inflammation in the intestines. Tylosin is another option, although its bitter taste means it should be compounded for use in cats, usually made into a capsule.
Dietary modification is important as well. Food allergy may play a role in IBD, and proteins are usually the cause of dietary allergies, so trying a novel protein source diet or a hydrolyzed protein diet might improve clinical signs. The food should be highly digestible and palatable to encourage acceptance.
The ideal diet is low in fat, moderate to high in protein, and moderately low in carbohydrates. The newer, hydrolyzed protein diets are made by breaking down protein into such small fragments that the immune system does not recognize them, minimizing inflammation.
Anti-inflammatory drug choices may include the steroid prednisolone and other immune-modulating drugs. Prednisolone, a corticosteroid, is usually the initial drug of choice. Most cats tolerate corticosteroids well, without significant side effects. These drugs suppress the immune system and dampen inflammation, the primary problem in IBD. Side effects include increased drinking, urination, and appetite, as well as weight gain and behavioral changes.
At higher doses, prednisolone can induce diabetes and possibly pancreatitis. In cats with heart disease, prednisolone may predispose them to developing heart failure, although this is controversial.
Most cats tolerate prednisolone well. In cases where side effects are severe or heart disease or diabetes are concerns, budesonide, a locally acting corticosteroid, may be administered.
Cobalamin is often poorly absorbed from the inflamed intestine, and it is critical for several functions in the body. When given as an injection, cobalamin can act as a mild appetite stimulant, which can be beneficial in IBD patients.
In cats that do not respond to steroids or that become refractory to them with long-term usage, chlorambucil or azathioprine, both chemotherapeutic agents, may be tried. These must be handled with gloves, and pregnant women should not administer them due to risk to the unborn fetus. Because of their potential negative effects on bone marrow, blood counts must be monitored while a cat receives these medications, as they can develop low red blood cell and white blood cell counts.
Bottom Line
Cats with IBD can be tricky to manage, and they often require repeated veterinary visits and close monitoring, but most can be managed with diligent care and coordination with a veterinary professional.