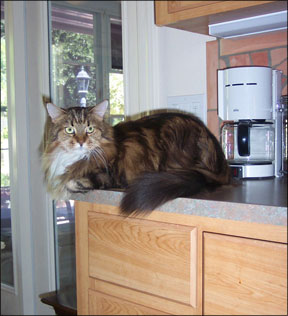 Quality of Life During Chemo
Its one of the toughest choices a pet owner can face – between life-saving treatment and quality of life for the pet. During chemotherapy for lymphoma, the third most common form of cancer in cats, for example, the patient might lose hair, appetite, weight, sleep or even its whiskers. Some help in deciding, if the difficult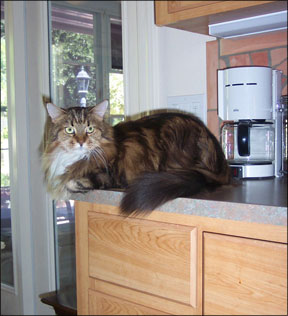 time ever comes, can be found in a Journal of Feline Medicine and Surgery (Vol. 10, Issue 1) report: "Owners perception of their cats quality of life during chemotherapy for lymphoma."
Of the 31 cat owners queried for the study, 25 (81 percent) said they were happy that they had treated their cat with chemotherapy, whereas three felt regretful and three were unsure of their feelings. Most of the owners (19) reported that their cats had "more good days than bad" during chemo; seven reported more bad days than good (including one cat that was miserable every day of the treatment); and four cats had "all good days." Despite the treatment, some cats did die of lymphoma or related causes. Obviously those owners were not happy with their pets eventual fate, but few regretted trying their best to save a life.
Love Me, Love My Vet
Considering the cost of chemotherapy, were not surprised by a report in the Journal of the American Veterinary Medical Association (Vol. 32, No. 4): "Impact of the owner-pet bond on the care that pets receive." The key finding: "Owners who exhibit strong bonds with their pets seek higher levels of veterinary care . . ."
Heres one statistic behind that discovery: Forty-two percent of cat owners say they would spend "any amount necessary" to keep their cats healthy (while 52 percent of dog owners say they would). And another stat: The median income of a household with a dog is $5,000 more than that of a home with just a cat. If youve ever cared for a dog, you know where those extra dollars will go.
Bacterial Clone Sharing
This ones for you, Frannie, the ShortTakes mascot, to explain why wed rather not share the kitchen table with your dainty paws: It is common for people and their pets to share the fecal bacteria that cause urinary infections in humans.
A human-medicine publication, the Journal of Infectious Disease (Vol. 197, No. 2), broke the yucky news in the report, "Escherichia coli Colonization Patterns among Human Household Members and Pets, with Attention to Acute Urinary Tract Infection." The studys subjects were human volunteers, recruited from the staff and visitors at a Minneapolis Veterans Administration hospital, and their pets – 48 dogs and 25 cats. Not every fecal sample from people and pets had the so-called extraintestinal pathogenic E. coli, and even fewer people had acute urinary tract infections during the study.
But in households where people and pets all had E. coli, the bacteria were genetic clones of one another. That meant the person had given the bug to the cat or vice versa. In some cases, researchers said, the animal might have been an intermediate host between two infected humans. They said in conclusion: "Within-household sharing of E. coli … is common and can involve any combination of humans and pets."
Here at ShortTakes headquarters, we fastidiously wash hands after cleaning the litter box. And we always sanitize the tabletop – where we suspect Frannie romps while were away – just before serving dinner. If Frannie could read the medical literature, she might do the same for our germs.