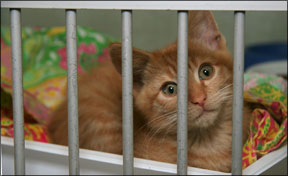 Upper Respiratory Disease in Animal Shelters
A common disease in cats, upper respiratory tract disease (URTD) can spread quickly among cats residing in animal shelters. These infections cause discomfort in the animals, consume vital personnel and financial resources and limit adoptions. In a large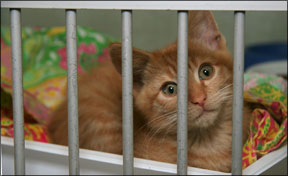 urban shelter in the northeast United States, 531 kittens, 701 litters and 2,203 adult cats were observed during their stays on a daily basis over a period of 50 weeks for signs of URTD ("Descriptive epidemiology of feline upper respiratory tract disease in an animal shelter" in the Journal of Feline Medicine and Surgery, 2009).
The median lengths of stay for adult cats and kittens were five and four days, respectively. Approximately one-third of the cats exhibited signs of infectious respiratory disease. Regardless of age group, the probability of developing URTD rose steadily with increasing time spent in the shelter. The probability of exhibiting signs remained low until day six – and then rose steadily. By day 14, the cumulative probabilities had risen to 84 percent (litters), 86 percent (individual kittens) and 80 percent (adult cats).
In different categories, adult cats over 11 years of age had a significantly higher risk of URTD than younger cats. Neutered males cats had higher rates of URTD than spayed females, and purebred cats were at higher risk than ones of mixed breeding. Strays were more likely to have URTD than owner-surrendered cats. The study documented the strong association between the length of the residence in a shelter and the risk of developing URTD. The results suggest that shelters should focus efforts and programs at minimizing the length of time cats spend in a shelter.
Hyperthyroidism and Once-Daily Treatment
Medical treatment of feline hyper-thyroidism has traditionally involved daily use of the azole drugs, methimazole or its pro-drug, carbimazole (many cats require twice daily treatment with these drugs). A novel controlled-release formulation of carbimazole (Vidalta) has been developed by Intervet. These researchers evaluated the efficacy and safety of this new carbimazole formulation via a multi-center study of 44 client-owned cats with hyperthyroidism ("Clinical efficacy and safety of a once-daily formulation of carbimazole in cats with hyperthyroidism" in Journal of Small Animal Practice, 2009).
Treatment was started at 15 mg/cat once daily, and dose was adjusted as required. Cats were followed for 53 weeks. The median dose over the study period was 10-15 mg/cat once daily. Clinical signs improved in almost all cats within three weeks after treatment was started.
An increase in blood urea nitrogen (BUN) was noted in 25 percent of the cats, eosinophilia was noted in 20 percent and lymphopenia in 16 percent. The researchers conclude that once daily administration of controlled-release carbimazole is effective with acceptable tolerance during short and long term treatment of feline hyperthyroidism.