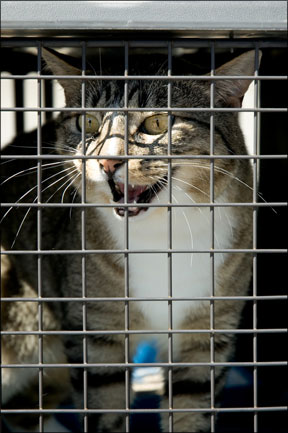 Remission in Cats with Diabetes
Diabetes mellitus (DM) is one of the most common endocrine diseases found in cats, and insulin therapy has become the most effective means to achieve blood glucose control. Clinical remission is not an uncommon finding in cats with well-controlled diabetes, though few studies have explored predictors of remission.
In this study ("Predictors of clinical remission in cats with diabetes mellitus," Journal of Veterinary Internal Medicine, 2010), data was retrieved from the medical records of 90 cats with newly-diagnosed diabetes. The data collected included history, signalment, physical examination findings, hematology, biochemical profile and the occurrence and duration of remission. Remission was defined as normoglycemia without insulin longer than four consecutive weeks.
The reason why remission occurs in some cats is uncertain. It is hypothesized that adequate control of blood glucose levels with insulin may reverse glucose toxicity to feline beta-cells in the pancreas. Owners of diabetic cats may be more motivated to treat their cats if there is better anticipation of remission. In this study, 45 of 90 (50 percent) diabetic cats achieved clinical remission, and the majority achieved remission within six months from diagnosis. Results from this study indicate that remission was more likely with higher age, and less likely in cats with elevated serum cholesterol. Remission was longer with higher body weight, and shorter in cats with higher serum glucose.
Collars and Microchips: Necessary
This study ("Evaluation of collars and microchips for visual and permanent identification of pet cats," Journal of American Veterinary Medical Association, 2010) wanted to determine the percentage of cats still wearing collars and having a functioning microchip after six months. (In previous studies, only 14 percent of cats were wearing any form of visual identification – like a collar or tag – at the time they were lost. Only seven percent had a microchip. Sadly, less than two percent of cats entering a shelter with unknown owner status were reunited.)
The primary reasons owners had not providing a form of ID for their cats include: the cats are kept indoors only, their cats did not get lost, and a belief that their cats wont tolerate a collar or will be hurt by collars, or that microchips are too expensive.
Most cats successfully wore their collars (approximately 75 percent). The plastic buckle collars stayed on better than the plastic breakaway buckle or elastic stretch plastic collars. However, it was noted that an owners willingness to replace a collar if it did come off, and owner expectations for success, were more important than collar types. The results also found that many owners dont consider using a collar until educated about its benefits.
Each cat in the study was also microchipped, and of the 478 microchips scanned at the conclusion of the study, only one was found to be non-functioning. Microchips are considered a good backup, long-term ID system following the use of a visual form of identification. Since one earlier study showed that 40 percent of all cats lost were considered to be exclusively indoors, veterinarians should recommend some form of identification to cat owners.
Is This Cat Feral? Help for Shelters
At least 2.5 million cats enter animal shelters yearly, and at least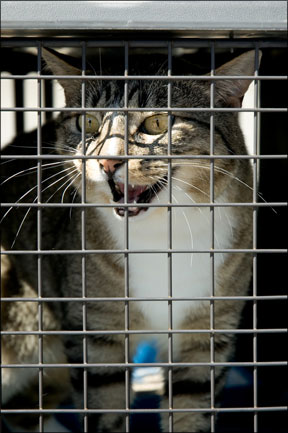 half are free-roaming cats (defined as any cat living part of the time outdoors). Animal welfare organizations must make disposition decisions on intake of millions of cats each year – and it sometimes can be difficult to distinguish between feral cats and frightened socialized cats. The objective of this study ("A survey of the methods used in shelter and rescue programs to identify feral and frightened pet cats," Journal of Feline Medicine and Surgery, 2010) was to learn about methods used to evaluate and categorize incoming cats, amount of time cats are held before assessment, and the level of cooperation between welfare agencies to minimize euthanasia of feral cats.
The authors found no widely-accepted criteria or information-gathering guidelines among the responses collected. Only 15 percent of the 555 respondents had written guidelines. Many respondents indicated that time was the most important element of deciding if a cat was feral or not. Minimal holding times were highly varied, with one to three days cited as the most common, especially animal control programs. Approximately half the groups transferred feral cats to trap-neuter-return (TNR) programs at least occasionally. The results of the survey highlight the need for more research to develop focused standardized guidelines for determining feral status early in the shelter intake process.