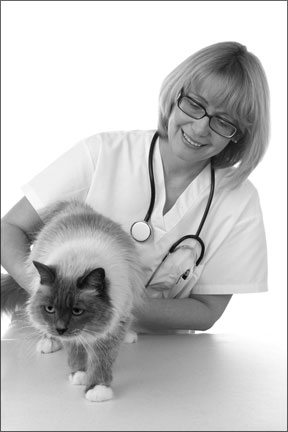 Toward Cat-friendly Veterinary Clinics
The sad truth about cats' access to veterinary care in the U.S.: They don't have much. Surveys show that nearly twice as many dogs visit the veterinarian as cats, even though the cats outnumber dogs — 86 million versus 78 million. Thirty-nine percent of owners say they would take their cat to the veterinarian only in the event of illness; and 60 percent report that their cat hates going to the veterinary clinic.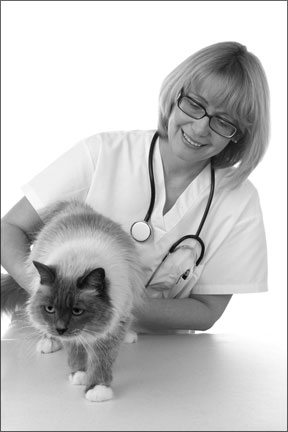 The visits may stress both owners and cats, says the American Association of Feline Practitioners. To offer a more calming, encouraging environment, it has launched an initiative to improve cats' treatment, handling and overall health.
At the same time, the AAFP, based in Hillsborough, N.J. , hopes to reverse the decline in clinic visits by owners. "The initiative addresses barriers to feline veterinary visits, including an aversion to cat carriers, sensitivity to new sights and smells, and the stress of an unfamiliar location or experience."
The association will award Cat Friendly Practice (CFP) certificates to those with staff members trained in how to approach and handle cats in a "gentle, empathetic and caring manner." More than 1,000 veterinary clinics worldwide have earned or are on track to receive a Silver Standard certificate, meaning they meet essential criteria, or a Gold Standard, meaning they meet the optimum level. The standards include:
Waiting and examination rooms appropriate for cats.
Suitable equipment, including anesthesia and X-ray machines.
At least one cat advocate, a knowledgeable professional who ensures that cats' care is guided by feline-focused standards.
One veterinarian who is an association member.
A veterinary practice can provide beneficial services beyond simply treating cats when they're sick or having an emergency, the association says. "By carefully advising you on unique feline needs in areas such as nutrition, routine checkups, environmental enrichment, behavior and other essential issues, your skilled CFP team can help your cat to be healthy and happy."
Extensive Pet Food Recall
Natura Pet Products has voluntarily recalled all Innova, California Natural, EVO, Healthwise, Mother Nature and Karma dry pet food and biscuit/bar/treats with expiration dates before June 10, 2014. The foods, intended for dogs, cats and ferrets, are sold online and through veterinary clinics and pet food stores in the U.S. and Canada.
"We made this decision in part due to a single positive salmonella test by the FDA," the company says. "Normally, this would have resulted in retrieval of product manufactured over just a few days. However, we are taking the additional precautionary measure to recall all products in the marketplace. Our first priority is the well-being of the pets we serve."
For information on requesting replacement vouchers or refunds: www.naturapet.com/about/contact-us or (800) 224-6123.