For people, the term toilet talk refers to dialogue that is conducted in foul language – in other words, language that cant be printed in this newsletter. But for cats, toilet talk is quite another matter.
Cats use their urine and feces to communicate with each other – but in addition, their waste byproducts can send some important messages to humans, as well. Although the very idea may gross out some people, the fact is that the quality of a cats bowel movements can reveal a great deal about that animals health.
At the very least, the color, volume and frequency of feline feces can provide a cats owner and veterinarian with valuable clues as to where a cats malady may be located, and what may be the cause.
Whats Normal?
To get the scoop on the message in a cats stool, its important to understand what a normal feline bowel movement looks like. Achieving such an understanding, however, can be trickier than it seems. Thats because two feline solid waste deposits can look quite different from each other – but both can still be considered normal.
The color of a normal bowel movement is variable, depending on the food eaten and the amount of bile present in the stool, explains Richard Goldstein, DVM, lecturer in clinical sciences at the Cornell University College of Veterinary Medicine. It can be anywhere from tan to dark brown, with the occasional green or orange movement.
However, any normal cat scat does have other characteristics that do not vary from feline to feline. Its formed enough to be able to be picked up without leaving a lot behind, says Dr. Goldstein. And there shouldnt be any mucus.
The frequency of such movements also is generally pretty consistent from cat to cat: One to three times daily, Dr. Goldstein says.
Frequency and Volume
According to Dr. Goldstein, significant deviation from the one-to-three-times-daily schedule can help a veterinarian determine where an ailment is taking place in the body.
A cat thats having many bowel movements that are each very small is probably having some sort of trouble in its large intestine. The cat strains, cries and has trouble getting the feces out, says Dr. Goldstein. There may also be fresh blood or mucus in the stool.
Conversely, a kitty thats not pooping any more often than normal – but whose deposits are abnormally large when they do occur – is probably having a problem in its small intestine. According to Dr. Goldstein, such movements are frequently very smelly, and may contain bits of undigested food. The affected cat is also likely to be vomiting.
Other Important Signs
The color of a cats stool can also provide important clues as to whats going on inside the feline body. Here are some common – but abnormal – colors and what they might signal:
Grey feces. This is known as acolic stool, says Dr. Goldstein. Its cement-colored, and it may signal an obstruction of the bile duct. Such an obstruction could signal a gall bladder problem, a tumor, or pancreatitis (inflammation of the pancreas).
Very dark feces. Stool that is black or very dark brown in color – especially if it looks like tar or coffee grounds – can indicate that the cat has swallowed its own blood, Dr. Goldstein says. That could signal bleeding in the stomach or small intestine, which could be one result of ulcers, kidney or liver problems, gastritis, or inflammatory bowel disease.
Other possibilities are problems in the small intestine such as tumors, parasites, inflammatory bowel disease, tumors or parasites. Less likely (but still possible) causes are bleeding in the mouth or esophagus, or even swallowing the blood that results from an overlicked paw.
Blood-streaked feces. Stool that contains streaks of fresh (red) blood indicate that theres bleeding in the cats large intestine or rectum. Such bleeding could signal the onset of colitis or a rectal tumor. Another possibility is infection with giardia, a protozoan parasite.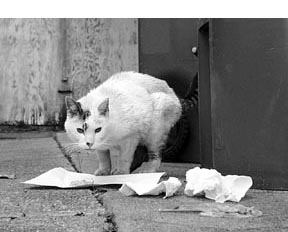 Other Variations
Quite often, a cats solid waste deposits dont tell the animals health story all by themselves. Thats because the deposits may contain material that provides additional clues as to what the cat may be suffering from.
For example, oiliness in the stool may be a classic sign of pancreatic insufficiency. Cats with this condition cant process the fat in their foods.
Feline solid waste that contains little pieces of a substance that resembles sesame seeds may be a sign that a cat has tapeworms. Stool that contains substances that look like alfalfa sprouts or spaghetti may signal that a cat has roundworms. And of course, a cats dietary indiscretions – food and non-food alike – often show up in the stool.
The shape of the stool matters, too. For example, says Dr. Goldstein, thin strips of stool [are] typical of a narrowing in the colon or rectum. This happens most commonly with a mass in the abdomen pressing on the colon or a constriction in the colon or rectum themselves.
A Baseline for Normalcy
Using poop to get the scoop on a cats health requires willingness on the part of the owner to known his feline friends bathroom habits, and to eyeball the solid waste that the cat produces. Knowing how often your cat usually defecates each day – and what his normal solid waste deposit looks like – provides a baseline from which to determine whats normal and not normal for your particular pet.
Once you acquire that knowledge, its important to share your observations with your veterinarian, says Dr. Goldstein. The veterinarian will work up a diagnostic plan based on the information you give him or her. Then, depending on the diagnosis, your veterinarian can formulate an appropriate treatment plan for the cat.