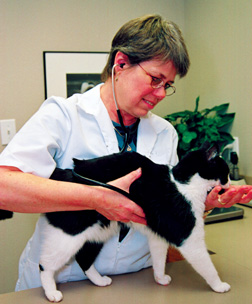 Leaving home to visit the veterinarian doesnt rank high on a cats list of things to do. After all, cats are territorial homebodies who thoroughly enjoy the predictable routine of their days.
Nevertheless, there is no substitute for getting a good history and regular physical exam, says Cathy Dyer, DVM, a lecturer at the Veterinary Medical Teaching Hospital of the University of California, Davis who is board certified by the American Board of Veterinary Practitioners. In the 21st century, the feline veterinary visit is evolving along with advances in veterinary medicine. The focus is on wellness care and early intervention for health problems, rather than on simply renewing vaccinations.
In addition, increasing the frequency of veterinary visits as your cat ages enables the veterinarian to stay on top of developments and begin treatment early, says Sharon Crowell-Davis, DVM, PhD, a professor of veterinary behavior at the University of Georgia, Athens who is also board certified by the American Board of Veterinary Practitioners.
Coming in every six months is still like coming in every several years for a human, she says.
Living a long, healthy feline life, however, begins with the people in a cats life. You know your pet best, and as veterinarians we rely on your observations to help guide us, Dr. Dyer says. Its all about communication. The following expert tips can help you make the most of the veterinary visit and ease your cats stress.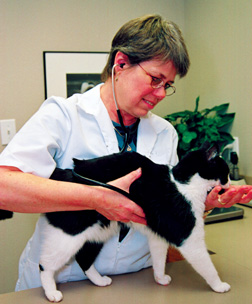 Lead the way. The primary caretaker of the pet should be the one who brings him in, Dr. Dyer says. Were going to ask the client a lot of questions about the cat, and if someone says, I dont know, my wife does that, we miss valuable information, she adds.
Jot questions down. A short list of questions can help you remember what you want to ask during the appointment. Let the veterinarian know early on what particular questions and issues you want to discuss. If you wait until she completes the physical exam and wraps things up, you havent made effective use of your time with the veterinarian, Dr. Crowell-Davis says.
Keep records at home. Its a good idea to maintain your own pet health file, including details like vaccinations, medications, deworming and flea treatments. This can be especially helpful when traveling with your pet, or if your cats health problem lands you in an emergency clinic at night, Dr. Dyer says.
Use a daily log to track chronic problems such as allergies. Recording reactions and abnormal signs when they occur provides valuable clues to how best to treat the problem. Summarize your log before your veterinary visit, Dr. Crowell-Davis advises. Read back and see if you can find any patterns. Just being able to tell the veterinarian that there is or isnt a pattern to your pets problem is useful, she says.
Discuss behavior problems. A behavior problem can be anything that is unacceptable behavior to the cat owner, Dr. Crowell-Davis says. Many people overlook this aspect of feline health during regular veterinary visits, but veterinarians can help with a variety of problems or provide appropriate referrals.
Honesty is the best policy. Dont be embarrassed or cover up anything about your cats history, Dr. Dyer emphasizes. For instance, many pets are overweight, and we ask what people feed them and what amounts. Were not judging anyone; were just trying to get information, so we can look at each case in the most complete way, she explains.
Celebrate. To reinforce a positive experience, reward your cat with her favorite treat after the appointment.