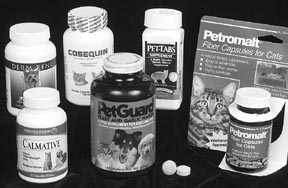 Theres a move afoot to crack down on animal nutritional supplements, and government, industry, veterinarians and pet owners are mobilizing on both sides.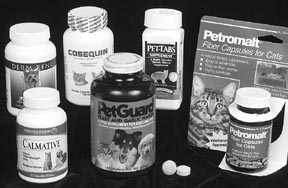 Only one in 200 new animal medications ever make it through rigorous research and government approval processes. It takes about two to three years to license a new animal vaccine and a decade or more to get a new drug to market, and companies spend $460 million annually on patent-protected drug development. But nutritional supplements, including vitamins and herbal remedies, are sold without any of the testing required of drugs.
Federal legislation allows nutraceuticals to be loosely regulated, over-the-counter health products for humans, but when these same products are labeled for pets, the government considers them animal feed strictly regulated by the Food and Drug Administration (FDA) and each states agriculture agency. The FDAs Center for Veterinary Medicine (CVM) especially worries about pet nutraceuticals making medical claims.
Stricter standards wanted
Until recently, authorities sought voluntary compliance. But this fall, the FDA and Association of American Feed Control Officials (AAFCO) are trying to make nutraceutical firms meet AAFCO manufacturing and feed ingredients standards. AAFCO, which has no enforcement powers, is encouraging states to target one supplement – comfrey – and not allow its sale as an animal feed ingredient or additive. This current strategy does not ban comfrey when sold as a stand-alone product.
Under the AAFCO/FDA plan (Enforcement Strategy for Marketed Ingredients or ESMI) one particular ingredient will be looked at by as many states as possible, says Rodney Noel, PhD, AAFCO secretary, Office of Indiana State Chemist. Because the FDA considers comfrey unsafe, we would want to get it off the market, he explains. Manufacturers need … to prove its safe (and prove) their sometimes outlandish claims.
However, Susan Wynn, DVM, executive director of the Veterinary Botanical Medicine Association asserts, The FDA is only concerned that (formal) safety studies have not been done. Many supplements are beneficial, used safely for millennia, like medicinal mushrooms and chamomile. As a practitioner, I can say some of my patients will be harmed if they take these things off the market. Holistic veterinarians, she adds, have used supplements to strengthen immunity and treat ailments for decades.
You cant just put egregious health claims … or (ingredients) that are a safety concern into either human or animal supplements, counters Gloria Dunnavan, director of compliance at the FDAs Center for Veterinary Medicine. Our goal is to make sure safe, effective and truthful labeling (is on) products for pets.
States rule
Specific enforcement steps and most animal feed regulations are left to individual states. So while ESMI currently singles out comfrey, any state could choose to also target other pet-labeled supplements ranging from urinary health compounds sold
in grocery stores to glucosamine supplements sold by veterinarians.
Wynn says government and industry compromise – even new legislation – is needed. The regulators have no choice, the way the law is written, she says. And the safety issue is very much a concern, especially for novel supplements (or) really powerful herbs which should be used only by a trained herbalist. But simply disallowing the sale of herbs and supplements is like Prohibition.
Consumer protection
If animal-labeled products are unavailable, consumers will use human supplements without knowing proper pet dosages, she says. Even if the health food store says just use 1/4 the size for cats, that could be really dangerous. Cats metabolize things differently and cant just safely use human products.
Nutraceuticals need manufacturing, safety and labeling guidelines that protect consumers, while encouraging quality firms to do the right things right, says Bill Bookout, president of the National Animal Supplement Council (NASC), which submitted its own recommendations to AAFCO/CVM. Responsible industry participants … are as concerned about the fly-by-night opportunists as anyone else.
But requiring nutraceutical firms to comply with drug standards simply isnt realistic and will sink many of them, he says. Enforcing AAFCOs approved food ingredients list isnt reasonable either, since supplements often dont fit well into AAFCOs existing categories.