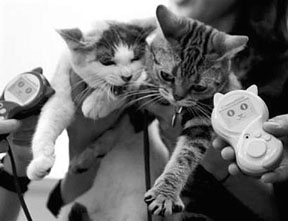 We Feed, They Breed
Overrun as it is by a fast growing population of free-roaming cats, Floridas Alachua County typifies many suburban communities in the United States – and a grim Rule of 75s.
That north-central Florida county, with 216,000 human residents and an estimated 100,000 cats, is admitting more than 5,000 of its felines a year to the municipal animal shelter, determining that 75 percent of those are unowned strays, and eventually euthanizing 75 percent of them because of a shortage of adopting homes, according to an article in the Journal of the American Veterinary Medical Association (Vol. 223, No. 2).
Who is feeding those 44,000 unowned cats, which can increase their population with multiple litters of kittens a year? And what is it about the kindly souls who feed strays – dont they have animals of their own to nurture? The researchers pondered this at the start of their telephone survey to random households.
They learned that 14 percent of the Alachua County human population is feeding an average of 3.6 stray cats. Furthermore, 43 percent of the stray-cat-feeders did not share a home with a cat of their own, suggesting that they went out of their way to acquire and provide food, even when they did not own pets themselves, said the researchers from the University of Floridas School of Veterinary Medicine.
Then another number caught their attention: A scant 11 percent of the people who fed stray cats had ever taken steps to get them fixed, even though no-cost, volunteer-based trap/neuter/return (TNR) programs were just a telephone call away.
———-
Electronic Cat-Talk Analyzers?
The product introduction of MeowLingual – the handheld cat-emotion analyzer – means anyone with about $75 can, like the storied Dr. Doolittle, understand the animal ( at least, according to the manufacturer).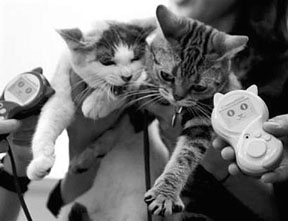 The same Tokyo-based Takara Company last year sold 300,000 BowLinguals to fasten to the collars of barking Japanese dogs while their owners receive one of 200 possible messages (in six canine emotional states, such as assertion or desire) on their wireless translators. Dog owners were encouraged, in a Takara press release, to program the BowLingual Diary function – so they could return home and review every assertion and desire of their barking dogs emotional day.
The one-piece MeowLingual is different, a company representative said, because cats arent fond of electronic gadgets on their collars. Instead, the handheld MeowLingual – in the shape and colors of a cartoon cat – is pointed at the real kittys emotion-expressing mouth.
But the cat-trained human mind does the same kind of emotional analysis and translating when it hears a cat meow assertively or desirously, according to a 2002 study by Cornell University psychologists. They found that people who hang around with cats could tell what felines are talking about, whereas catless people hadnt a clue.
Takara says the electronic translators are products of the Doolittle Project, which aims to fulfill the realization of communication between humans and animals. Even if dyed-in-the-fur cat lovers already have some fluency in cat talk, the company hopes theyll try the new device for a second opinion: Was that last meow in frustration or intimidation?