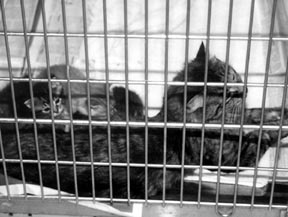 Internet Pet Adoptions
People shop for everything else on the Internet – books, clothes, cars, and pet supplies – so why not pets? Nationwide web sites such as Petfinder.org are actually links to local animal shelters with their own websites. Suppose adoptable cats are in short supply in New York City, as sometimes happens. (Maybe theyve gone to the Catskills?)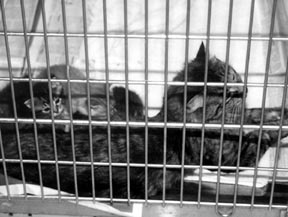 Starting at http://www.petfinder.org/, which claims to have leads on more than 90,000 ready-and-willing pets across the US, and entering the zip code for a Catskill Mountains town (Ellenville, New York, 12428) the search leads to Project Cat, Inc. in Accord, New York, and a host of Catskills cats. A two-fer package there, Beatrice and Abigail turned out to be mother and daughter domestic shorthairs, and they much preferred to be adopted together – hopefully to a home without a dog, or if one did live there, he had to be a nice one. With photos to illustrate their profiles, Beatrice and Abigail were described as being up-to-date with their shots, house-trained – and yes, they had been altered.
On all Petfinder.org profiles, there are icons that indicate whether the cats have special needs, are declawed, and whether they prefer homes without dogs, other cats, or small children. One sponsor of the Petfinder site is a pet health insurance company that offers two months free coverage on many animals adopted through the service.
Dry Weather Means Fewer Fleas
A fine-toothed-comb study of feral cats in north-central Florida, as reported in the journal Veterinary Parasitology (Vol. 109, Issue 1-2) recalls the itchy days before modern insecticides, and suggests one benefit to droughts. Researchers at the University of Floridas College of Veterinary Medicine started with 200 feral cats that had never benefited from veterinary care, including anti-flea and anti-tick treatments. They combed each cats fur for five minutes, peered into ears with otoscopes and carefully swabbed the ear canals.
The result: 185 of the homeless cats, or 92.5 percent of those examined, were infested with fleas – mostly with the common cat flea Ctenocephalides felis, but some had other kinds as well. Fifteen of 200 cats had skin disease, and the Florida researchers blamed fleas for two-thirds of that. Otoscopic examination found mites called Otodectes cynotis in the ears of 45 cats (22.5 percent), but ear swabs found more like 37 percent of cats harboring ear mites. The good news was that only nine ticks altogether were found on five cats.
Even better news was the weather. The veterinary researchers, who conducted their parasite safaris monthly from June to September, reported a marked decrease in numbers of fleas on the cats during an unusually dry August. Relative humidity and temperatures had remained high – as might be expected for Florida in the summer – but fleas apparently had a tough time, according to the researchers. They concluded that, Environmental conditions can affect the proliferation and survival of ectoparasites.
The study highlights the benefits to domesticated cats with access to veterinary care and a modern pest-prevention program. To people thinking of adopting a feral cat from Florida, the study suggests that a flea treatment might be in order. And all kinds of cats everywhere have at least one reason to hope for a drought.