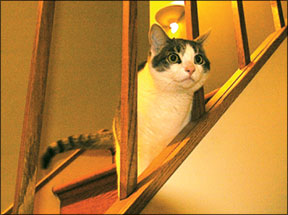 When (and Why) to Spay or Neuter
If statistics help you make difficult decisions, there are plenty of numbers in a Journal of the American Veterinary Medical Association (Vol. 231, No. 1) article, "Determining the optimal age for gonadectomy of dogs and cats."
First the researchers compared benefits and risks of the surgeries. For example, spayed female cats incur an immediate 2.6 percent risk of surgical complications,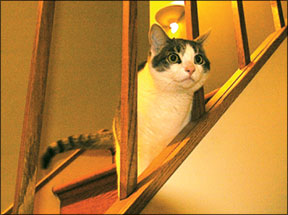 as well as a high risk of obesity, and less than a one percent risk of either FLUTD (feline lower urinary tract disease) or diabetes mellitus – all later in life. None of spayings possible outcomes causes what the researchers termed "substantial morbidity." That is, surgical complications from the spaying (called ovariohysterectomy or OHE) are hardly ever life-threatening.
On the benefits side of the calculation, substantial morbidity goes along with mammary gland tumors. An estimated 2.5 percent of female cats will get mammary cancer in their lifetime, a risk that is "greatly reduced" if they are spayed before the first estrus, the researchers advised. Male cats make the decision so much easier. The relatively simple gonadectomy has few surgical complications. And the toms are much easier to live with afterwards.
Up for a Challenge?
We wondered why Frannie, the ShortTakes office mascot, never tires of chasing feather toys up and down stairs – whereas the same game on a flat floor is boring.
Now we know. Frannie is in the running – literally – for the title of Americas Fittest Cat. The contest is jointly sponsored by the American Veterinary Medical Association and Hills Pet Nutrition, Inc.
A visit to the contest website, www.petfit.com, reveals the incentives that drive Frannie to Olympic heights. Finalists (five cats and five dogs) get free food (Hills brand, of course) for a year and a trip to New York City to meet fitness guru Gunnar Peterson at the 2008 PetFit Challenge Grand Prize Judging. Grand Prize winners (Frannie, of course, and some overachieving dog) will win the title of Americas Fittest Pet, as well as appearances in 2009 advertising campaigns by the pet food company.
According to the "Training Room" part of the PetFit website, a cat performing "mild exercise," such as walking and light indoor play, is said to burn two times more calories than a cat at rest. "Moderate exercise" burns three times the calories, and includes chasing a toy, strenuous play, and – here it comes – running up and down stairs. Start packing your bags for New York, Frannie.
Antimicrobial Resistance
Heres something to ponder while sifting through the litter box. Cat feces are good for something – at least to researchers who published a study in Veterinary Microbiology (Vol. 127, Issue 1-2). Titled "Prevalence of antimicrobial resistance and resistance genes in fecal E. coli isolates recovered from healthy pets," the study focused on 36 cats and 39 dogs – with surprising results. Compared to fecal matter from cows, pigs and other food animals, hardly any of the E. coli from cats and dogs was antimicrobial-resistant. For example, only 16.7 percent of cat E. coli was resistant to the antibiotic ampicillin, while only 12.1 percent was resistant to streptomycin.
Health authorities worldwide are worried about overuse of antibiotics, which may be creating new lines of "super bugs" that medicines cant control.