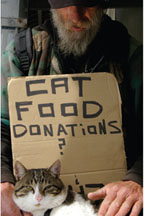 Low-Carb Diet May Help Control Feline Diabetes
Veterinary researchers from Colorado State University and New Yorks Animal Medical Center, reporting in the Journal of Feline Medicine and Surgery (Vol. 8, pp. 73-84), have news for owners of diabetic cats.
Their report, "Comparison of a low-carbohydrate, low-fiber diet and a moderate-carbohydrate, high-fiber diet in the management of feline diabetes mellitus," gives the nod to low carbs. They fed diabetic cats one of two kinds of foods, either Hills Prescription Diet Feline w/d canned (the moderate-calorie, high-fiber kind that was formulated to control weight and diabetes) or Hills Science Diet Feline Growth canned (the low-carb, low-fiber food that originally was formulated for kittens).
The study concluded that "dietary therapy may play a discernable role in the control of clinical signs and the need for exogenous insulin in cats with diabetes mellitus." The low-carbohydrate diet worked best, the researchers said, but the high-fiber diet was an acceptable alternative. "However, cats may be more likely to be well-regulated . . . when fed a canned low-carbohydrate food," they concluded. Full disclosure time: One of the researchers, Dr. Claudia Kirk, works for Hills Pet Nutrition, Inc. However, the study was funded by Morris Animal Foundation, not by the pet food company.
And bragging rights for Cornell: Another researcher on the study, Dr. Martin J. Fettman, is the former NASA astronaut (Spacelab Life Sciences-2 in 1992 and STS-58 in 1993) who earned his DVM degree in the College of Veterinary Medicine here. Hes now back to earth (around 5,000 feet above sea level) on the faculty of CSU in Fort Collins, Colorado.
———-
Home Monitoring for Diabetes Works, Too
Another report in the same issue of the feline journal, titled "Home Monitoring of the Diabetic Cat," says that that works reasonably well, too.
The home-monitoring study was conducted in Switzerland, but the problem is probably the same for North American cats: They just dont eat normally while camped out at the veterinarians office. And that can decrease blood-glucose concentrations, the Swiss researchers said, adding: "It is then difficult for the veterinarian to decide whether anorexia or overdose of insulin is the cause of low glucose concentration."
But with proper instruction and a little practice, researchers said, most cat owners can learn to monitor and manage diabetes mellitus at home. Some cats in the study were still going strong after four years of home monitoring by some very caring human companions.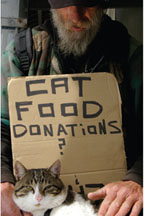 ———-
Thanks, Buddy and Kin
Buddy, a panhandlers pet at Fishermans Wharf, San Francisco, shown here a week before the 100th anniversary of the 1906 earthquake, appears to make two points: "Buddy aint spayed," his owner said proudly. "I got four more just like him at home, and none of my cats are spayed." Without commenting on the wisdom of that decision, its worth noting that San Franciscos cats played a role in rodent control after the devastating earthquake, a time when the bubonic plague was rampant there. Some of those cats may have been Buddys kin. They probably werent spayed, either.