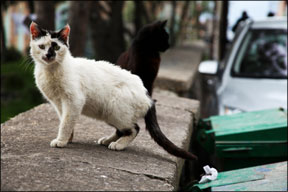 Spay and Neuter Bill Stalled
Legislation in California that seeks to mandate spay and neuter surgery for most cats and dogs has been placed on the suspense file pending further review.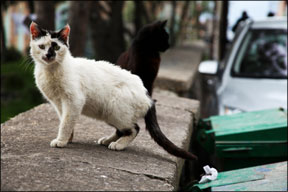 Senate Bill 250, introduced in February by Sen. Dean Florez, requires that dogs be spayed or neutered unless their owner gets an unaltered dog license. It also requires that roaming cats be spayed and neutered.
The Senate Appropriations Committee analysis on SB 250 states that the bill has costs associated with it in the short term. As a result, it was placed on a list with other bills which have a fiscal impact on state and local governments.
All bills placed on the suspense file are scheduled to be taken up together at a later date. Staff and lawmakers review all bills that are projected to cost more than $150,000, and then decide which bills will be released to the committee and voted on.
Link Between Diet and the Feline Central Nervous System
A study of the feline diet has led scientists to discover that a cats central nervous system has the ability to repair itself.
The study, published in the Proceedings of the National Academy of Sciences (March 2009) by a team of researchers at the University of Wisconsin-Madison found that the restoration of myelin – a fatty insulator of nerve fibers – can lead to recovery of central nervous system ailments.
"The fundamental point of the study is that it proves unequivocally that extensive remyelination can lead to recovery from a severe neurological disorder," says Ian Duncan, the UW-Madison School of Veterinary Medicine neuroscientist who led the study.
The study was initiated by a mysterious affliction in pregnant cats, according to the university. A company testing effects on growth and development using irradiated diets found that after three or four months, pregnant cats developed progressive neurological disease, Duncan says. The cats recovered slowly once taken off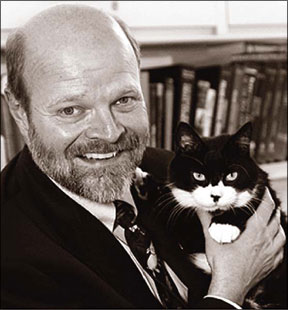 the diet, he says. Duncan wasnt involved in the original diet study and doesnt know what caused the neurological problems, but says his follow-up study confirms that remyelinating strategies are clinically important to central nervous system treatment.
21st Annual Fred Scott Feline Symposium
Continuing in the tradition of providing the most up-to-date information on feline health issues, this years 21st Annual Fred Scott Feline Symposium draws on the knowledge of recognized experts in feline medicine. Speakers from Colorado State University and the University of Queensland, Australia, plus several faculty members from the College of Veterinary Medicine at Cornell University, will give participants in-depth learning opportunities in feline medicine. Topics include gastrointestinal diseases, modern diagnostic medicine, feline diabetes, feline obesity, feline vaccine controversies, infectious diseases, feline nutrition, feline kidney diseases and feline anesthesiology.
This years symposium (July 24 – 26) will include the first James R. Richards Memorial Feline Lecture. These lectures have been established to honor the outstanding contributions the late Dr. Richards made to the field of feline medicine to improve the health and well-being of cats everywhere.