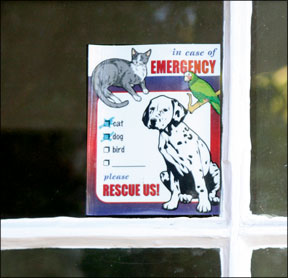 Tracking Cat Food Recalls
What a year it was for pet food recalls. Who would have thought, in January 2008, that by years end more than 100 brands of dry cat food and dog food from just one plant in Pennsylvania would be recalled – not for making pets sick, but for a possible link to human cases of infection with Salmonella enterica?
So how can the average cat owner make sure not to miss an important food recall? One way is to periodically check the "Recalls & Safety Alerts" section of the U.S. Food and Drug Administrations Web site: www.fda.gov. While youre there, sign up for Email updates. Theres no telling what 2009 will bring.
Check Your Safety Window Stickers
Speaking of pet safety, we were surprised – while putting up the storm windows last month – to discover that the "Save Our Pets" sticker by the kitchen door listed neither Frannie, the CatWatch ShortTakes feline mascot, nor Moose, her DogWatch counterpart. As far as the Fire Department could tell, zero pets live here.
It seems that the ink we used a year ago had faded in the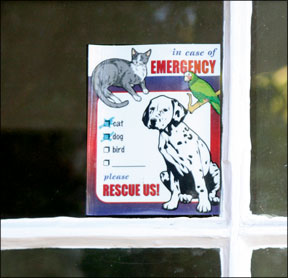 sunlight. It was a good reminder to update window stickers periodically – for animal additions, subtractions or virtual disappearances.
Minding the Mind of the Cat
Dogs think: "My people keep me warm and dry, feed me good food, pet me, brush me and play with me. They must be gods." Whereas cats think: "My people keep me warm and dry, feed me good food, pet me, brush me and play with me. I must be a god!"
That old-but-true joke is at the heart of a new book, "What Philosophy Can Tell You About Your Cat, " edited by Bloomsburg University philosophy professor Steven D. Hales. Collected essays by 18 authors probe questions like this: If cats have no intent in life, no obvious plan beyond, in the words of Friedrich Nietzsche, "prowling avidly about in search of spoil and victory," what can we learn from living with and loving such creatures?
Kitty Kindergarten Curriculum
From the philosophical to the practical, cat (and dog) behavior is the subject of an entire special issue of the journal Veterinary Clinics: Small Animal Practice (Vol. 38 Issue 2). One article, "Feline Fear and Anxiety," notes that cats can have satisfactory social relationships with other cats – if they can socialize outdoors – but strictly indoor cats can have trouble coping with "novel stimuli and intraspecific social relationships."
Whether a young cat is to have a solitary indoor life or share a home with others, a few sessions of "kitty kindergarten" can result in a better-adjusted lifetime and better relationships with other cats. Here is the curriculum recommended in the article, "Preventing Behavior Problems."
Session one: Without the kittens, owners learn about common behavior problems of cats and how they should be rewarded for appropriate behavior (and ignored for the other kind). Session two: Kittens (arriving in carriers) learn how to relax and settle on cue (with massage from their owners) and how to come and sit on cue (tiny, tasty treats are useful). Session three: How to groom and pill the kitten, trim nails and check ears. Kittens learn to walk on a lead or accept a harness, and to play – without using sharp teeth and claws – with humans and other kittens.
When its time for the class graduation photo, the lessons on how to sit nicely with other kittens can come in handy! (See related article in CatWatch, January 2008.)