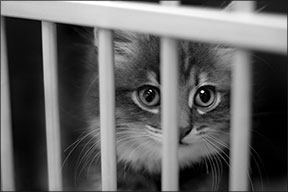 Study Targets the Need for Understanding Reproduction
A lack of knowledge about cats' reproduction and the myth that cats should have a first litter before spaying may lead to 200,000 accidental litters — and more than 850,000 kittens — annually in the U.K.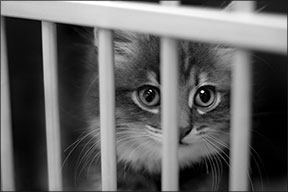 Those were among the findings of a phone survey by the University of Bristol School of Veterinary Sciences and cat welfare organizations, including the National Cat Centre in Sussex. Unplanned births contribute to population growth and one in seven unwanted animals entering animal welfare organizations, say authors of the report published in the peer-reviewed journal Veterinary Record.
The study sought to assess the extent of the problem and identify targets for owner education. Information gathered from 715 cat owners found that:
A total of 128 litters was reported from owners of 552 female cats, with the proportion of accidental litters at 80 percent.
More than half of the respondents were more likely to report an accidental litter if they believed a female cat should have a litter before being neutered. This was "despite there being no evidence whatsoever that this benefits feline health," the authors say. Men were more than twice as likely as women to hold the belief, as were respondents who had more than one cat and rented rather than owned their home.
Misconceptions about cat reproduction were common; 84 percent of owners thought that the earliest a cat could become pregnant was 5 months of age. Although rare, cats can conceive as young as 4 months. More than one-third of respondents believed that un-neutered, related cats would not mate or were unsure about it.
The study suggests that improving knowledge of cats' reproduction would likely have a significant impact on the number of accidental litters, the authors say, adding that, "Unplanned litters boost the risk of health problems for the mother cat and her kittens, including birth defects as a result of inbreeding."
Acceptance for Acupuncture
The American Veterinary Medical Association's House of Delegates has voted to admit the American Academy of Veterinary Acupuncture as an allied organization. The delegates from state, territorial and related veterinary medical groups set policy for the AVMA.
The 900-member acupuncture group represents a growing practice area among veterinarians, says its president Ken Ninomiya, DVM. The academy is devoted to improving "animal health care by the advancement of veterinary acupuncture, Traditional Chinese Veterinary Medicine and Traditional Asian Medicine."
Veterinarians in the U.S. began adopting acupuncture in the 1970s, and since the 1990s training programs have experienced increased enrollments every year, the academy says.
Correction on Vaccine
An article in the January 2014 issue on "Outwitting Animal-to-Owner Diseases" incorrectly stated that a vaccine for the bacterial infection leptospirosis is available for cats. In fact, while one is available for dogs, no leptospirosis vaccine is currently for use in cats. ❖