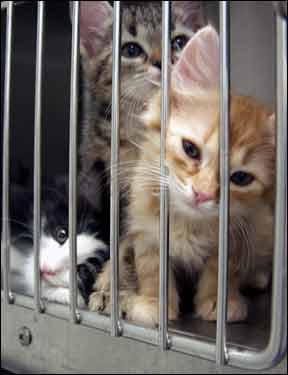 Delay of Shelter Adoptions
In shelter and rescue situations, it is extremely important for personnel to identify the most adoptable animals whose adoptions are unlikely to be delayed for medical reasons. This study ("Risk factors for delays between intake and veterinary approval for adoption on medical grounds in shelter puppies and kittens," in Preventive Veterinary Medicine, 2011) was designed to identify risk factors for health-related delays from intake to approval for adoption in shelter puppies and kittens.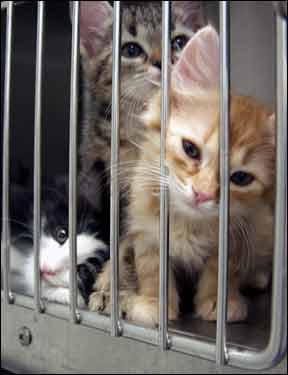 Records from more than 300 puppies and 300 kittens in a large metropolitan shelter were examined. Kittens exhibiting any respiratory or gastrointestinal problems upon intake were more likely to have delayed adoption. Older kittens were less likely than young kittens to experience this delay. Stray kittens — as opposed to owner-relinquished kittens, or kittens transferred from another shelter — were more likely to experience delays for adoption. Prompt antimicrobial therapy for infectious diseases was helpful in decreasing the delay for adoption. Additional studies at other shelters will be useful, but this study indicates that rapid treatment of kittens and puppies with mild infections is critically important when trying to decrease their time in a shelter.
Airway Inflammation and Asthma
Experts estimate that one percent of the pet cat population is affected by feline asthma and chronic bronchitis. Both conditions are chronic inflammatory diseases of the lower airway that can lead to irreversible damage called airway remodeling. Presently, bronchoalveolar lavage fluid (BALF) analysis is the only diagnostic test readily available in a clinical setting to determine the type of inflammatory cell present in the lower airways.
This study ("Subclinical airway inflammation despite high-dose oral corticosteroid therapy in cats with lower airway disease," in Journal of Feline Medicine and Surgery, 2011) is a retrospective evaluation of 10 cats meeting the appropriate criteria for the study.
The goal was to determine the correlation between the resolution of clinical signs in cats receiving oral glucocorticoids with the resolution of inflammation based on BALF cytology. The findings showed that 70 percent of the cats diagnosed with asthma or chronic bronchitis that had resolution of clinical signs (cough, wheeze or episodic respiratory distress) with concurrent high-dose glucocorticoid therapy still had evidence of persistent airway inflammation based on BALF cytology. The results support the statement that caution should be used when equating absence of clinical signs with the absence of airway inflammation. Premature tapering of glucocorticoids based on absence of clinical signs in cats with subclinical inflammation could be detrimental in the long run. ("Radical excision with five-centimeter margins for treatment of feline injt as a means to achieving an improved outcome in the treatment of injection-site sarcomas in cats.
Esophageal Disease in Cats
Esophageal disease is considered to be uncommon in cats. However, there have been few studies to document its frequency. The purpose of this retrospective study ("Oesophagel disease in 33 cats," in Journal of Feline Medicine & Surgery, 2011) was to characterize the frequency, presentation, diagnostic means, treatment and outcome of the disorder in cats. Thirty-three of 2,894 cases (approximately one percent) met the criteria for the study. Regurgitation and/or vomiting were the most common presenting clinical signs, and were reported in 27 of 33 cats. Anorexia and weight loss were also noted.
Some of the cats referred for perceived vomiting were subsequently discovered to have regurgitation instead. This finding highlights the importance and difficulty of trying to distinguish between vomiting and regurgitation when trying to diagnose the problem. Plain radiography is relatively insensitive for esophageal disease and a number of additional diagnostics may be required. A definitive diagnosis was made in 32 of 33 cases, making idiopathic esophageal dysfunction very rare. Recent oral medication (e.g., doxycycline, clindamycin) was the most common cause of esophageal strictures. Therefore, the careful administration of certain oral antibiotics is important. Treatment and outcome of esophageal disease is highly variable.