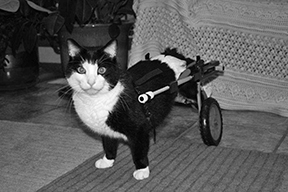 A Therapy Cat On Wheels
A Husky found the kitten lying in the street and gently carried him in his mouth home to his owner. Scooter had a broken spine and his back legs were paralyzed. Euthanasia would have been the likely fate for a kitten in similar shape. But Betsy Kennon, VMD, at Harts Run Veterinary Hospital in Fox Chapel, Pa., was determined to save his life — and she did. Hospital clients chipped in to buy Scooter a custom-made wheeled cart to get around.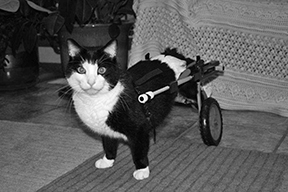 Today, he regularly visits a nursing home and a rehabilitation hospital as a therapy cat. He serves as an "inspiration to the elderly and to patients who lack mobility due to injuries and strokes," says the ASPCA. During one of Scooter's first hospital visits, a stroke victim who doctors said would never open her eyes or speak suddenly did open her eyes and began chatting away like they were old friends. Her first word: kitty. The staff was in tears.
The ASPCA honored Scooter as the Cat of the Year at its annual Humane Awards Luncheon in New York City, along with
other special animals and individuals who have made a significant impact on the lives of animals.
Dr. Kennon, who is now with the VCA Northview Animal Hospital in Pittsburgh, Pa., went on to adopt Scooter, who joined her four dogs, three cats, a lovebird and a tank of fish. She's had to discourage him from getting at the fish but has noted that, unlike her other cats, he's caught five mice.
The Top 10 Breeds
The website Vetstreet examined purebred cats' birth records in 2011 and came up with its top 10 list of the most popular cat breeds in the U.S. Heading the list: the chatty, curious Siamese. The other breeds in order:
1. Persian
2. Maine Coon
3. Ragdoll
4. Bengal
5. Himalayan
6. American Shorthair
7. Manx
8. Russian Blue
9. Sphynx
10. Gauging arthritis pain
Researchers at the University of Montreal are developing scales for identifying and quantifying pain caused by osteoarthritis. Drs. Mary Klinck and Eric Troncy are working on two scales: one designed for use by owners and another by veterinarians. So far, their work shows promise, and next steps include laboratory trials to increase the tests' sensitivity and improve their ability to detect pain, says the Morris Animal Foundation Fellowship, one of the sponsors of the study.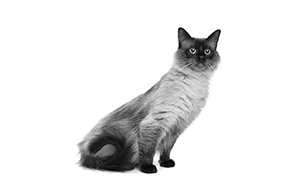 Osteoarthritis is common in older cats who suffer the same painful joint degeneration that humans do. However, cats excel at masking pain, making the disease difficult to diagnose if observable signs such as lameness aren't present.
Chronic pain limits function and may also contribute to behavior problems that can damage the human-animal bond, resulting, experts say, in euthanasia or the surrender of the pet to an animal shelter. Veterinary medicine has scales to measure sudden or surgical pain in cats, but those conditions differ from chronic pain. ❖