Cat Litter Delivery Service
Boxiecat is a new online subscription cat litter service that can help save trips to the grocery store, and puts an end to lugging heavy bags of litter. Considering that there are 86.4 million pet cats living in the United States, this service can certainly fill the necessity for litter in a new and more convenient way — especially for the elderly or the handicapped pet owner.
The service includes free shipping including Alaska, Hawaii and the U.S. territories (anywhere from five to 45 day intervals); competitive pricing and quantity discounts; and payment on a per-shipment basis. For more information, visit their website at www.boxiecat.com or call 877-817-0253.
New Treatment for FeLV Virus?
Feline leukemia virus is a retrovirus of cats that can cause cancer, anemia and immunosuppression — and unfortunately an effective treatment for FeLV infection does not currently exist. Researchers in this study ("Inhibition of feline leukemia virus replication by the integrase inhibitor raltegravir," Veterinary Microbiology, 2011) investigated the usefulness of an anti-retroviral drug called raltegrevir that was originally developed for treatment of HIV in humans.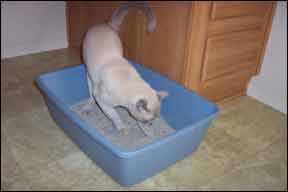 The researchers tested the drug in a laboratory setting for potential toxicity to feline cells, as well as the ability to inhibit the replication of FeLV in these cells. In cell culture, it was found that this drug inhibited virus replication and did not cause toxic changes to the feline cells. The researchers speculate that this drug could be used to reduce virus replication in FeLV-infected cats to the point that their own immune system could eliminate the virus, effectively curing the infection. More research is needed, but this research does offer a promising first step.
Methicillin-Resistant Infections
The presence of antibiotic resistant bacteria in companion animals is certainly a concern for human health. One organism of particular concern in human medicine is methicillin-resistant Staphylococcus aureus (ital) (MRSA) — this bacteria is commonly found in people, but only rarely in dogs and cats. Dogs and cats, on the other hand, are infected most commonly with Staphylococcus pseudintermedius (ital) (MRSP). Investigation of dogs and cats in Portugal — where MRSA is a problem — discovered that pets were found to harbor MSRP relatively commonly ("Methicillin-resistant staphylococci in companion animals," Veterinary Record, 2011).
These bacteria had significant antibiotic resistance, and when wounds or other internal tissues are infected opportunistically, treatment can be difficult. There is potential for MRSP in pets to be passed to humans, though the extent of this occurrence remains unknown. Further research is needed to define the role, if any, of MRSP in human infections.