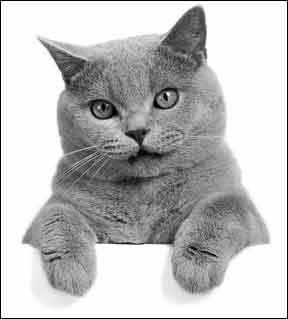 Imagine veterinarians being able to sterilize feral cats by vaccination instead of surgery. Or to identify the connection between a relatively benign form of feline coronavirus and feline infectious peritonitis, which is nearly always fatal, with the hope of finding ways to diagnose and combat it. Or discover how and why vaccine-associated sarcomas may trigger DNA damage in some cats and how this damage may be used to predict which cases of the sarcomas
are amenable to chemotherapy.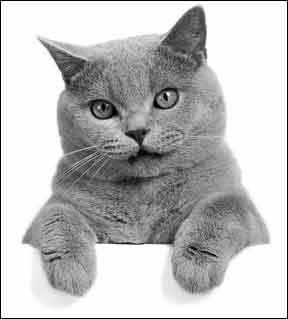 These are just three of the many scientific studies funded by the Cornell Feline Health Center where, under the guidance of Director Colin Parrish, Ph.D., Professor of Virology, the goal of bettering the health of cats continues to be the focus and commitment, as it has been since the center opened its doors in 1974.
"Our mission has and always will be to improve the health and well being of cats worldwide," says cardiologist Bruce G. Kornreich, DVM, Ph.D., DACVIM, who was appointed Associate Director for Education and Outreach for the center in March. "We do this by networking with and disseminating information to veterinarians, owners, breeders and cat lovers; and also by funding research into important feline health issues."
Dr. Kornreich credits Fred Scott, DVM, Ph.D, the center's founder, with the foresight and persistence to focus on feline health nearly four decades ago, when dogs outnumbered cats in American households. Today, cats outnumber dogs as pets — 86 million versus 78 million.
Independently Funded. The center, which is independently funded and has two full-time faculty and four full-time staff members, is located within the Baker Institute for Animal Health at Cornell University. It has played a major part in feline health milestones such as:
-Establishing vaccine recommendations for respiratory viral diseases and feline panleukopenia, a highly contagious, sometimes fatal viral disease.
-Developing the ELISA test (enzyme-linked immunosorbent assay) to detect coronavirus antibodies.
-Identifying feline immunodeficiency virus in non-domestic cats.
In his role as Associate Director, Dr. Kornreich develops multi-media informational platforms for educational outreach, oversees conferences and research grant programs and serves as a liaison between the Feline Health Center and the Cornell University Hospital for Animals. He also teaches and sees patients in the cardiology unit at the hospital. The position allows him to maximize his natural teaching talents. "My entire career has been all about education and outreach to the veterinary community and the public," he says. "The time is right for me to be part of the center's important work."
In July, the center held its 24th annual Fred Scott Feline Symposium at the university's Veterinary Education Center. The three-day conference focused on feline infectious diseases and cutting-edge research presented by feline practitioners and researchers from Cornell and the University of Tennessee. Speakers also provided updates on anesthesia, cardiology, dentistry, neurology, nutrition, clinical pathology and ophthalmology. An exciting addition to this year's program was the inclusion of lectures addressing health and conservation issues in non-domestic cats.
Keynote speaker Gary Whittaker, Ph.D., Professor of Virology in the Department of Microbiology and Immunology at Cornell, discussed his ongoing study of the molecular mechanism of the transformation of the enteric form of feline coronavirus, a relatively benign virus that is usually tolerated by cats, to the highly virulent FIP form of the virus, which is nearly always fatal.
Improving Treatment. "FIP is a tough disease to diagnose and extremely difficult if not impossible to treat," Dr. Kornreich says. "Dr. Whittaker has been conducting groundbreaking research on this problem for several years and we're hopeful that his studies will provide us with a better understanding of the pathogenesis of this disease and ultimately to improvements in the diagnosis and treatment of FIP."
Meanwhile, progress continues on studies to develop a vaccine to sterilize feral cats and to investigate how the molecular abnormalities in vaccine-associated sarcomas can be exploited to tailor chemotherapy and improve the prognosis for this devastating disease.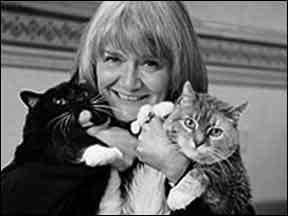 Vicki Meyers-Wallen, VMD, Ph.D., Associate Professor of Genetics and Reproduction at Cornell's Baker Institute for Animal Health, is conducting the feral cat research. The goal: Find a time-saving, cost-saving, and effective way to sterilize cat colonies other than surgery.
"We don't expect immediate application of this principle, as a number of obstacles to practical application exist, but Dr. Meyers-Wallen has made significant strides in this area of research," Dr. Kornreich says. "Trapping, neutering and releasing feral cats back to their colonies is an admirable and major undertaking that, while benefitting many cats, may not achieve the reduction in feral cat population that we would prefer. The concept of vaccine based sterilization, or immunosterilization, that Dr. Meyers-Wallen is investigating holds promise of an easier and more effective way to control feral cat populations."
Studying Sarcomas. Oncologist Kelly Hume, DVM, Assistant Professor in the Department of Clinical Sciences, is studying why some cats fare better with chemotherapy for vaccine-associated sarcomas than other cats. Among her research interests are:
Determining how checkpoint proteins, special proteins that assess DNA damage, impact tumor progression and resistance to cancer therapies.
Determining how targeting different signaling pathways within neoplastic (tumor) cells can be combined with cytotoxic therapies, such as chemotherapy and radiation therapy used to kill cells, to improve responsiveness of certain tumors.
"A major goal of Dr. Hume's research is to determine if VAS-associated alterations in the DNA may predict chemotherapy sensitivities," Dr. Kornreich says.
The goal of the study, like the goal of the center, is to discover and share medical information so cats enjoy long, happy lives.