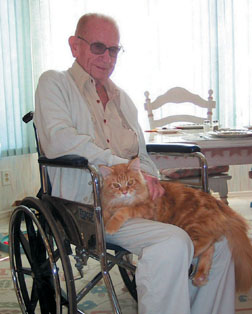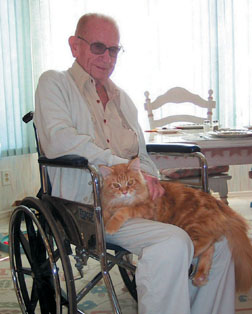 Eighty-two-year-old Alice Kutler has two adult cats, Sissy and Killian. For Kutler, who lives alone, the felines provide companionship that she didnt have before. They greet me when I get up in the morning and when I come home. Before I adopted them, I never had anyone to talk to, says Kutler.
Some seniors want pets because they have more time to care for an animal or they seek the companionship a pet provides. Although a companion cat can provide many benefits to a senior citizen, pet ownership is a two-way street – and the cat needs to receive the benefits of living with a person. Ensuring a successful pairing requires matching the right cat to the right senior.
Cats personality types are important to any senior who has health problems such as diabetes or has fragile skin, says Pam Perry, DVM, behavior lecturer for Animal Science at Cornell University. If the cat is too rambunctious, it could lead to more complications if the cat accidentally scratches you.
Programs Just for Seniors
Many shelters have adoption programs that place senior cats with senior citizens. The shelter may pay for the spaying or neutering, vaccinations, blood- and dental work, and offer low- or no-cost adoption fees. Before placing the cat, the shelter may look at the seniors overall health and whether he or she can clean the litter boxes, take the cat to the veterinarian or groomer, administer medications, and shop for necessities such as food and litter. If the senior is unable to perform these tasks, someone must be available to do them.
A shelter may also look at the seniors financial status and may require approval from the landlord if the senior rents. Above and beyond the basics, personality typing of both the person and cat is a must. Some people want a cat who will be in their laps, so you need to look for a cat who likes being held, says Dr. Perry, and, if a cat is skittish, it might hide all the time from a senior who walks with a cane or walker, says Dr. Perry.
If the cat has a condition that requires medical care, the senior needs to be able to handle treatment. The senior needs to make sure she can medicate the cat before adopting one who needs drops or injections, says Dr. Perry. Some cats are very easy to medicate while others can be quite difficult.
Frisky Kittens a No-No
Kittens are a joy to watch but may trip an older person who is not aware a cat is underfoot. Kittens are a joy to be around but can be a danger in the homes, says Dr. Perry, especially to someone who is not as mobile. Seniors with decreased mobility may find adopting an older cat to be a better decision. Older cats tend to be calmer, but can be playful when the spirit moves them, says Dr. Perry.
One disadvantage is that an older cat is more likely to develop medical problems and require more veterinary care. And, eventually they pass away, leaving the senior to go through the grieving process sooner than they might with a younger cat, advises Dr. Perry.
The amount of grooming a cat requires may also be an issue. A senior with arthritis might not be able to groom a Persian with an undercoat that knots. Some cats hate to be groomed, so it may be better to get a short-haired cat to minimize grooming, says Dr. Perry. A smaller cat may be easier to handle and maintain. Some larger cats can have difficulty washing certain areas and my need help keeping groomed, says Dr. Perry.
If the senior has back problems, bending over to clean the litter box may be difficult. Raising the box to a level that both the senior and the cat can reach it may solve the problem. Using a self-cleaning litter box and spraying it with silicone to help keep the movable parts clean is another solution, says Dr. Perry. Be sure to spray the silicone outdoors because of the potent odor.
If you or a senior you know would like a pet but cannot adopt, find an animal organization that does pet-assisted therapy and might make visits. If you are able, consider volunteering at your local shelter. You will help the cats, and they will love you for it.