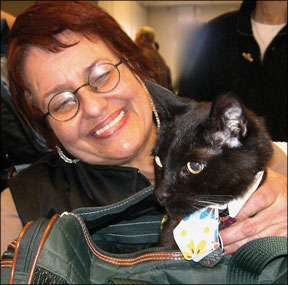 Epilepsy Treatment Called Effective
Studies reported in the Journal of the American Veterinary Medical Association (Vol. 232, No. 6) suggest that the human anti-epileptic drug, levetiracetam, "is well tolerated in cats and may be used as an adjunct to phenobarbital treatment in cats with idiopathic epilepsy."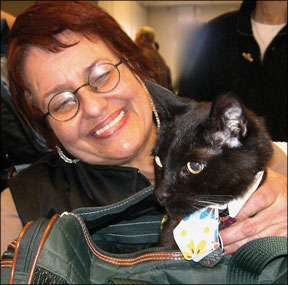 "Idiopathic" means that the root cause of the epilepsy is not known. And researchers acknowledge that no one knows exactly how levetiracetam works – just that it is not harmful to a cats liver or kidneys.
Help for New Orleans Animal Shelters
If you havent done your share to help New Orleans recover from Hurricane Katrina, then your veterinarian might. Vets from across the country will roll up their sleeves July 17-18 to refurbish Louisiana SPCA shelters in four New Orleans parishes – before opening day of the 145th AVMA (American Veterinary Medical Association) conference in Morial Convention Center.
Return to Scenter
Twelve-year-old Eddie is a certified service animal, a boon to Peggy Schubert in times of stress – like trying to navigate the awful mess that airline travel has become these days. Simply stroking Eddies silk-soft head, poking out of the cat carrier at airport gates, relieves anxieties and lowers blood pressure for Ms. Schubert and for fellow passengers alike. A doctors letter attests to Eddies status as a service animal.
Imagine Schuberts horror when Eddie disappeared, a year ago this month, from her San Francisco home near Golden Gate Park – just as the news media reported rampaging coyotes in the otherwise scenic park. She did all the right things to locate a lost pet, distributing hundreds of "Missing Cat" posters with Eddies picture, notifying animal shelters and asking for help from passing police officers and firemen at their stations. But to no avail. She passed up her fathers 90th birthday celebration to search for Eddie, and twice consulted psychics. After four weeks, people started taking down her posters; Schubert retrieved posters from the trash, relabeled them "Still Missing," and put the posters back.
Then someone made a good suggestion: If Eddie were to find his way back home – by retracing his own scent through the streets of San Francisco after a month away – that scent trail ought to be renewed. Schubert tied string to two of Eddies favorite, scent-bearing possessions. She dragged the tattered catnip mouse and the goofy pink pillow through the streets. Even in famously tolerant San Francisco, people were giving her funny looks but Schubert didnt care. She had to re-scent Eddies trail back home.
At 11:30 p.m. on July 9, 2007, the cat came back. Eddie had lost half his weight, but not his congenial voice. Caught between his toes were sticky burrs – which later gave clues to his five-week whereabouts. A pajama-clad Schubert rushed Eddie to the vets office, where intravenous fluids replenished some of his lost weight. Schubert was allowed to take Eddie home that night.
About those burrs: They only grow on certain weeds – in Schubert's otherwise well-groomed neighborhood – at a boarded-up, burned-out house that had been abandoned since 2001. Workers had begun repairs in June – and then closed up the house, trapping Eddie inside. When workers returned in July, Eddie dashed to freedom – scaling a tall fence and following some sort of trail (the scent of the pink pillow?) to Schuberts door.
"Hes called the Miracle Cat of San Francisco," Schubert happily proclaims. "At least thats what I call him."