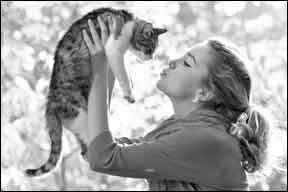 Survey: 'The Love Doesn't Translate'
A survey of more than 50,000 U.S. households has uncovered a puzzling disconnect between cat owners' beliefs and actions. Owners in 2011 said they increasingly consider their cats family members — 56 percent, up from 49.4 percent in 2006. Yet just 27.1 percent of owners say they took their cats to the veterinarian only when they were sick.
Given that the feline population in the U.S. is approximately 74.1 million, about 20 million pet cats went without regular checkups and care in 2011. "The love for a family pet doesn't always translate into visits to the veterinarian — visits that can lead to a longer and healthier life," says the American Veterinary Medical Association, which reported results of its survey in its "2012 U.S. Pet Ownership & Demographics Sourcebook."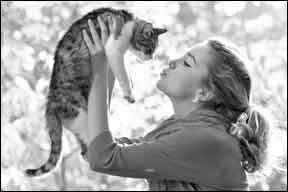 The survey, which is conducted every five years, also found that:
More than half the owners — 55.1 percent — said they didn't take their cat to the veterinarian in 2011 because their pet didn't get sick
or injured.
The number of veterinary visits declined among cat-owning households; 55.1 percent had at least one visit to the veterinarian in 2011, down 13.5 percent from 2006.
Nearly 10 percent of owners said they never took their cat for veterinary care.
If so many cats see the veterinarian only when they're ill, chances are many are getting sick when they don't need to be, said AVMA President Doug Aspros, DVM. "The human-animal bond is stronger than ever, but we are very concerned that pets may not be getting the preventive health care they need. What's important to remember is that preventive pet care can help save you money. Potential health problems can be diagnosed early — and costs can be reduced — if our pets visit the veterinarian on a regular basis."
Where the Cats Are
In addition to reporting on veterinary visits, the AVMA book on ownership lists 10 states with the most cat-owning households. The states and their percentages of cat ownership: Vermont, 49.5; Maine, 46.4; Oregon, 40.2; South Dakota, 39.1; Washington, 39; West Virginia; 38.1; Kentucky, 36.8; Idaho, 34.6; Indiana, 34.4; and New Hampshire, 34.2.
The bottom 10 states: California, 28.3; South Carolina, 27.8; Rhode Island, 27.6; Alabama, 27.4; Florida, 27.3; Georgia, 27.3; Illinois, 26.3; Louisiana, 25.9; New Jersey, 25.3; and Utah , 24.6 percent. The District of Columbia had the lowest rate of cat ownership at 11.6 percent.
Farewell to 'Fluffy'
More than 485,000 pets are insured by Veterinary Pet Insurance. Of those, only 65 cats are registered under the name of Fluffy. Owners today seem to prefer people names for pets, at least the insured ones. The top five cat and dog names in 2012 were also among Baby.com's 100 most popular names that year. The top cat names, according to VIP:
1. Bella
2. Max
3. Chloe
4. Oliver
5. Lucy
6. Smokey
7. Shadow
8. Tiger
9. Charlie
10. Tigger
Bella also topped the list of dogs' names, and Charlie was No. 1 for birds and exotic pets. Winning honors as the wackiest cat name: Pico de Gato.