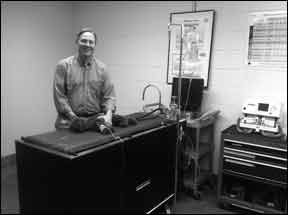 Students honing their emergency skills at the Cornell University College of Veterinary Medicine owe gratitude to a special feline named Fluffy, who doesn't meow and never needs a litter box.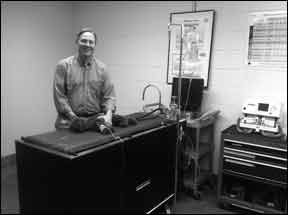 Fluffy is a robotic cat equipped with a mechanical pulse and heart, artificial lungs and electronic hardware and software capable of simulating cardiac arrest, lung diseases, shock and other medical conditions. She and a canine version named Jerry are believed to be the first of their kind used in veterinary schools.
Think of Fluffy as a high-tech pet version of the popular battery-operated board game Operation, which tests players' hand-eye coordination and motor skills. Jerry and Fluffy are proving to be confidence builders for second- and third-year students aspiring to become veterinarians.
A Teaching Bridge. "In the classroom, some students can rattle off what to do for various medical situations, but in the clinic, they may freeze and have trouble remembering what to do," says Daniel J. Fletcher , DVM, Ph.D., Assistant Professor of Emergency and Critical Care. "Our robo-dog and cat give students the opportunity to practice, learn from their mistakes. This type of teaching is a bridge between classroom learning and treating patients in the clinic."
Credit Dr. Fletcher for their creation. In addition to a degree in veterinary medicine, he has a doctorate in biological engineering and background in electrical engineering. His first robotic pet was constructed using parts from a human patient simulator in 2009. He's now working on a new generation simulator being built from scratch that will ultimately be shared with other veterinary and technical schools. Funding for the project has come from a variety of sources from inside and outside Cornell.
Computerized Organs. From Fluffy's outward appearance, she looks like a huggable stuffed cat toy. But inside are computerized organs and connections Dr. Fletcher controls to simulate the breaths and heartbeats of a real cat. He can manipulate the controls to change Fluffy from a healthy cat to one needing immediate care.
While students spay and neuter healthy shelter animals under the supervision of their professors, Fluffy allows them to face the challenge of quickly diagnosing and taking appropriate action when an animal is having a medical emergency and minutes count. They learn how to perform cardiopulmonary resuscitation and treat shock and other serious, sudden illnesses.
Enio Sanmarti, a third-year veterinary student from Caracas, Venezuela, appreciates the benefits of practicing on a robotic pet. "I was privileged to work on an abdomen emergency case on the robotic pet," he says. "I did everything from start to finish, from assessing vital signs to extracting blood from the abdomen. This is an incredible learning experience because it allows us to work as a team under stress and try to save a pet's life."
Robo-Fluffy and Robo-Jerry are at home in the new robotic simulation center on campus. It features fully equipped exam rooms and two rooms for video observation by other students. The center also has defibrillators, medical supplies, a full crash cart and other equipment students need to check vital signs, practice inserting catheters and hook up monitoring devices — all necessary skills when they begin their veterinary practices.
"These robotic pets give students the opportunity to practice in real time and to discuss what went well and what didn't go well," says Dr. Fletcher. "Mistakes prove to be great ways to learn. I've heard students say, 'I'm never going to do that again,' and you can see that they are emotionally invested and committed."
Welcome Butch. He gives demonstrations using the robotic pair at veterinary conferences around the world. "People are uniformly interested in this type of learning," says Dr. Fletcher, who has unveiled a third-generation robotic dog named Butch.
"Butch has joints that move like a real dog and a clam-shell chest to insert electronics and a better capability for catheter insertion," he says. "The first prototype of Butch is definitely a step up from Jerry. He has a more realistic airway and a more realistic feel."
Word of Cornell's robotic pets is sparking interest at other veterinary schools and is paving the way for a new way of learning. "Using robotic simulation is a new model of teaching, of problem solving," Dr. Fletcher says. "We can provide an environment where students can learn from their mistakes without causing harm. If those mistakes cost Fluffy her virtual life, a quick press of a button brings her back to life to teach those students the correct approach, so that when they're faced with a flesh-and-blood patient in the clinic, they have the skills and confidence to save the real lives."