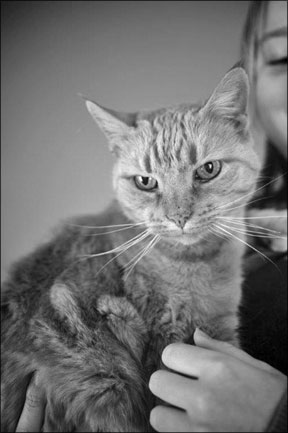 Steffi Loomis awoke in the middle of the night to the sound of painful meows from Dave, her normally mellow 16-year-old female cat with a male name. When Loomis turned on the light, she discovered bloody diarrhea and vomiting and her orange tabby getting weaker and sicker by the minute.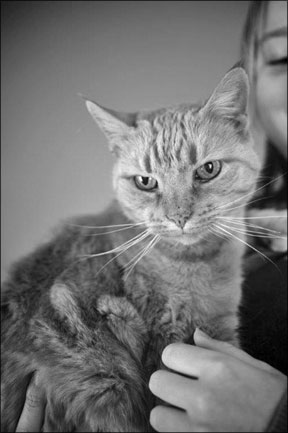 Loomis, who lives in New Canaan, Conn., contacted the veterinarian, who advised her to take Dave immediately to Cornell University Veterinary Specialists in nearby Stamford, Conn. CUVS, the largest university-affiliated veterinary referral service in the country, has been referred to as the Mayo Clinic of veterinary medicine. Loomis rushed Dave there, and a team of specialists quickly worked to save her life.
Touch and Go. "It was touch and go with Dave," says Susan Hackner, BVSc, MRCVS, Chief Medical Officer at CUVS and a specialist in both emergency and critical care and internal medicine. "We discovered that Dave's blood was not clotting, and she was suffering from severe shock and anemia. We needed to give her several blood transfusions."
Dave spent several life-saving days at CUVS. Its 12 specialists and more than 50 staff members use the latest scientific advances in surgery, cardiology, critical care, internal medicine, ophthalmology, oncology, diagnostic imaging and non-invasive procedures. In cases such as Dave's, specialists use a state-of-the-art thromboelastography machine that assesses the animal's overall clotting ability. Conventional laboratory equipment provides information on only some aspects of blood clotting.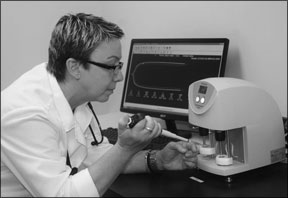 "We are probably one of 10 or 15 veterinary institutes in the country with this type of machine," Dr. Hackner says. "It's new to medical technology and gives us significantly more information on overall clotting that allows better diagnosis and more informed treatment decisions."
Affiliated with the Cornell University College of Veterinary Medicine based in Ithaca, N.Y., CUVS opened its doors in 2011. "Thanks to our cutting-edge medical procedures and team approach to care, many animals like Dave who wouldn't have made it 15 years ago are now pulling through," says Dr. Hackner. "We are dedicated to open communication with everyone — the patient's family, their primary care veterinarian and all the specialists and staff at CUVS. We ensure that everyone is working together seamlessly, that the pet's family is an educated and informed member of the medical team and that the patient has the best possible chance for success."
Courageous Companions. Dave joined about 30 former CUVS patients who were named Courageous Companions by the staff at a special celebration at the hospital. "It was an intimate reunion with some of our favorite patients who were incredibly sick and not expected to survive, but did so despite all the odds," says Dr. Hackner. "Our staff became quite attached to these animals and many come back for visits. They remind us that extraordinary recoveries are possible and are becoming more the norm for us here."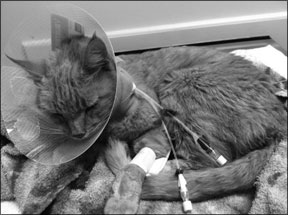 Loomis was gratified to see so many healthy pets and happy owners. "The whole time Dave was at the hospital, the doctors were in constant contact with us on the phone. They saved her life. Without a doubt, if there is a serious issue with a pet, CUVS is the place to go for care."
Another cat in attendance was Fluff, a now 1-year-old, cream-colored Burmese. Late last year, Fluff arrived at CUVS at about half the weight of her littermates, extremely lethargic and suffering from chronic constipation. Fluff was so critical, says her owner, Kirstin Gard of Darien, Conn., that her veterinarian recommended that she be euthanized because a cause could not be pinpointed and treatment was not working. "I just couldn't put her down and decided to take her to CUVS to see what they had to say," Gard recalls.
It turned out that Fluff suffered from a very rare condition known as congenital hypothyroidism. This potentially fatal disease prevents the thyroid gland from producing vital hormones for growth, function and metabolism. Elisa Mazzaferro, DVM, Ph.D., a specialist in emergency-critical care, was the first to examine Fluff.
Acting Like a Kitten. "I looked inside her little mouth and noticed that none of her teeth had erupted through the gums," she says. "I was reminded of reports I had read of these congenital endocrine anomalies. We tested her thyroid function and it was almost non-existent. I immediately started thyroid supplementation and within a week or so, her owner was telling me that Fluff was running up the stairs and acting like a rambunctious kitten."
Congenital hypothyroidism is so uncommon in cats that most veterinarians never see a case during their careers, Dr. Mazzaferro says. Once receiving thyroid supplements, Fluff quickly grew and is now at a healthy size and weight for her breed.
"She is a beautiful kitty who is strong-minded, fearless but sweet tempered," Gard says. "She needs to be on thyroid medicine for the rest of her life, but that's fine by me. We feel so lucky to have her healthy and that we live only about 10 minutes away from a place of this caliber."
Dr. Mazzaferro says that working at CUVS often puts the talents of the entire staff to the test to save the lives of animals. "Our job is to provide the best quality care we can at any moment. No day here is the same. The other day, we had multiple critical emergencies simultaneously. The coordination of the team was amazing. One of the sickest patients was a cat who arrested several times and was successfully resuscitated. She was sitting up and grooming herself later that night."